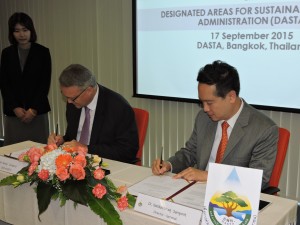 The Global Sustainable Tourism Council (GSTC) and Thailand's Designated Areas for Sustainable Tourism Administration (DASTA), signed an agreement for DASTA to conduct the GSTC Sustainability Training program in the Thai language throughout Thailand.
Dr.Nalikatibhag Sangsnit, Director-General of DASTA said he was delighted that DASTA once again has cooperation with a high profile organization and brought in world-class knowledge of sustainable tourism, in form of this training program. This will be beneficial to DASTA's work both in the designated areas and in Thailand as a whole.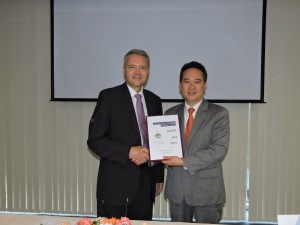 GSTC launched their Sustainability Training Program in 2014 and is working to expand access to the classes worldwide. CEO Randy Durband says: "Ideally, everyone involved in tourism in all countries will understand the concepts of sustainability. The GSTC classes are designed for anyone engaged in tourism – including players from the private sector, public sector, academia, NGO's, and tourism development. We are pleased to make this training available in Thailand."
DASTA plans to commence the training course in 2016. In the initial stage, DASTA will provide the training in its designated areas, then will start training the course nationwide. DASTA wishes that this sustainability training course will play an important role in setting a common standard of sustainable tourism in Thailand.
Contributing members are responsible for the accuracy of content contributed to the Member News section of AdventureTravelNews.