Austin Adventures to Host Webinar Discussing Ways to Explore Ecuadorian Islands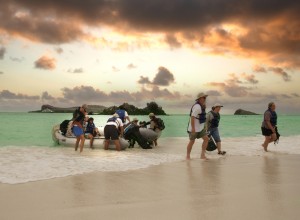 Billings, MT – The Austin Adventures office in Billings, MT is almost 4,000 miles away from the famous Galápagos Islands. But the adventure travel company could not be more prepared for its upcoming webinar that will tackle the tougher questions associated with travel to one of the world's most sought after archipelagos.
"Traveling to the Galápagos Islands can be tricky, but with help from experts who are familiar with Ecuador's rules and restrictions, it's entirely possible and definitely worthwhile to visit the one of the first places to land on UNESCO's World Heritage List," says Dan Austin, President and Founder of Austin Adventures.
Since many major travel decisions are made during the holidays when families are gathered together, Austin and his team of travel professionals hope to answer burning questions prior to the Thanksgiving holiday by hosting a Galápagos-themed 45-minute webinar on Thursday, Nov. 6 at 6:00 p.m. EST.  For more information and to reserve a seat please visit: https://www1.gotomeeting.com/register/814043352.
The topic of the webinar is "land-based vs. boat-based" and with the help of Austin Adventures' partners Tropic Journeys in Nature and Ecoventura, participants will learn the benefits of these two distinct ways of exploring the islands. The webinar will close with a real time Q&A session with Austin and his adventure travel consultants as well as land-based expert Jascivan Carvalho of Tropic Journeys in Nature and boat-based expert Doris Welsh of Ecoventura.
"It's pretty much a win-win situation when you have multiple ways to experience such a biologically diverse destination, and we've always gone out of our way to offer the best of both worlds to our guests who visit the Galápagos," says Austin. "With this webinar, we hope to answer a lot of reoccurring questions regarding the ideal ways to visit these unique islands."
Although Austin Adventures sells award-winning vacation packages to all seven continents, its Galápagos itineraries are among the most in-demand for both families and adults.
Austin Adventures currently offers five trips to the Galápagos including a new Galápagos Luxury Cruise that makes its debut in the company's 2015 Adult Adventure Vacations Catalog. The other Galápagos tours that Austin Adventures offers include:
The webinar is open to consumers, members of the media and travel agents. Participants who book an Austin Adventurers Galápagos vacation by December 5 will receive a free gift. Austin Adventures will also cover the cost of their Galápagos National Park entrance fee ($100) and transit control card ($10).
Contributing members are responsible for the accuracy of content contributed to the Member News section of AdventureTravelNews.