Opportunity for G women to develop personal leadership abilities, share ideas and network with other women employees.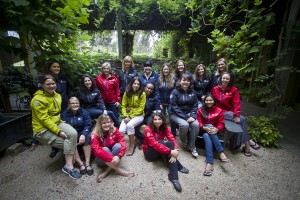 San Francisco, CA – This week 18 women from G Adventures, the small group adventure tour operator, are gathering in Northern California to explore the topic of women's leadership.  The 8-day meeting signifies the inaugural launch of what has been labeled "G Women's Leadership Camp" or GWLC for the 22-year-old company (follow on Twitter using #gwlc).  Bringing women from around the globe, including Africa, Germany, Australia, Canada and the US, the purpose of the meeting is a combination of professional and personal development.
"Our goal for the week is to further discuss how we can develop and become better leaders; and how we can help other women to do the same," said Amanda Chew, Director of Global Talent for G Adventures.
With an application process open to all worldwide G Adventures' women employees, the final selection of 18 hailed from all areas of the company and represented many of its worldwide offices. The selection was based on a video submission or written response to three questions including what woman leader they admired most and why.
"This week has been all about exploring both the challenges and the opportunities that exist for women," says Cyndi Zesk, vice president of global marketing and US general manager. "We asked ourselves why should we host a leadership camp for women? Is that the right thing to do? And the answers were things like:  it is imperative to have a stronger female voice at the table so as a team we are making more well balanced and well roundeddecisions.  We also strongly believe that creating more leadership among women today will help tomorrow's generation of both females and males become stronger and better leaders themselves."
The idea for GWLC was presented last September at the company's annual G-Stock meeting by its founder Bruce Poon Tip as one way the company can live its core values, two of which include Do the Right Thing and Create Happiness and Community.
Read more about G Adventures here.
Adds Chew, "We are just halfway through the week's program and have already created some inspiring and exciting ideas around ways G women can further women's leadership globally."
In addition to daily brainstorming sessions participants have also enjoyed Napa Valley's vineyards, gone kayaking, participated in acooking class in Sonoma and walked across San Francisco's Golden Gate Bridge.
Contributing members are responsible for the accuracy of content contributed to the Member News section of AdventureTravelNews.