Travel to South America, Antarctica and the rebounding Middle East helps small-group tour operator surpass its own sales targets for FY18
In closing the books on its fiscal year, which began in August 2017 and concluded last month, award-winning, small-group tour operator G Adventures reported record-breaking sales in the United States, which represent a 20 percent increase over the year prior. It also joined the ranks of America's fastest-growing private businesses with recognition by the Inc. 5000 list for 2018.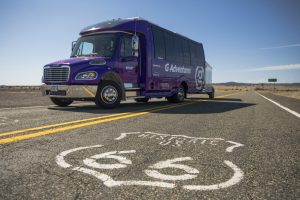 Company founder and social entrepreneur Bruce Poon Tip noted that the company's U.S. growth has soared at rates beyond even his initial expectations. From opening its first sales office in Providence in 2011, to relocating to Boston in 2015, and expanding into a second operations hub just outside Las Vegas earlier this year, the travel company now employs 70 travel pros who work in sales, marketing, tour operations and social impact roles across the United States. It also rolled out a new fleet of 14 custom-built, branded adventure vehicles this year, to more comfortably and safely carry travelers across North America.
"This team continues to impress and inspire me," Poon Tip said. "As I look toward our future growth, I see the American market and the American traveler as central to our vision and strategy. We aim to make small-group adventure travel the go-to way for people to experience the world and use their vacations for something fun and transformational."
Driving increases in sales for G Adventures over the past year has been the consistently strong performance of perennially trending destinations such as Iceland, Peru, Costa Rica and Thailand. A commitment to travel advisor education and familiarization also contributed to the team's success. Participation in agent webinars offered by G Adventures' destination and product experts was up 24 percent compared to the year prior with nearly 2,500 attendees.
"Travel to the rebounding Middle East and North Africa regions is also making a solid impact," added Steve Lima, the company's Director of U.S. Marketing. "We were thrilled to see triple-digit growth to Egypt, Jordan and Iran over the past year after a proactive push from marketing. This tells us that Americans are feeling confident and curious again about experiencing these amazing countries."
In addition to its sales growth, G Adventures made its premiere on the 2018 Inc. 5000 list of the fastest-growing private companies in America, as announced by the magazine last week. Now in its 37th year, the Inc. 5000 has previously included companies such as Microsoft, Timberland, Intuit, Chobani, Oracle, Yelp, Zillow and Zappos.
"The team here at G is beyond proud of the successes we've achieved over the past year, and fired up to deliver even more profit and purposeful travel opportunities for our customers and agent partners in the new fiscal year," said G Adventures' North American Managing Director Ben Perlo. "Our passion for life-changing travel fuels us in the day-to-day, but our competitive drive to smash expectations is what has helped us bring this brand from U.S. start-up to sector leader in just a short few years."
Over the past six months, the tour operator has also collected a noteworthy series of travel, business and employer awards and accolades for its achievements:
Looking back over its past fiscal year, the five countries most commonly booked by G Adventures' American customers were: Peru, Morocco, Thailand, Ecuador and the Galapagos, and Costa Rica. The destinations seeing the strongest growth among these travelers vs. the previous year were: Malaysia, Egypt, Jordan, Sri Lanka, Bolivia and Rwanda. The company will soon be releasing its list of top recommended and likely-to-trend destinations for 2019, and will be announcing some totally new tour locations to complement its portfolio of nearly 100 countries visited.
U.S. Vice President of Sales Peter Worthing, whose says his goal is to make adventure travel even more attractive to travel advisers and inclusive of a diverse range of clients said, "What we're finding from our customer and agent surveys is that the net is widening for adventure travel. Gone are the days when this style of travel was understood to be just for youthful, budget-conscious, thrill-seekers. It's still that, but it's also for people of all ages, income levels and affinity interests who now see themselves reflected in the immersive, enriching experiences that small-group adventure travel offers. Frankly, there's no better way to experience the world."
Contributing members are responsible for the accuracy of content contributed to the Member News section of AdventureTravelNews.