(SEATTLE) June 23, 2015 – A former ambassador, a renowned Chilean chef and an entrepreneur turned die-hard conservationist will take the stage to give keynote presentations during the Adventure Travel World Summit (ATWS) to be held in Puerto Varas, October 5 – 9, 2015. Over 650 delegates from an estimated 65 countries around the world will join the Adventure Travel Trade Association (ATTA; www.adventuretravel.biz) for their marquee annual event for the adventure travel  industry.

These keynote speakers will accompany an extensive list of inspirational and thought-provoking educational sessions centered around the theme Viva La Revolucion de la Aventura. Joining formerly announced keynote speakers — Elizabeth Becker, Doug Tompkins, Arnie Weissmann and Jamie Sweeting — are these additional plenary sessions:
Tim Martin, a former Canadian ambassador whose talk will inspire delegates to "Instigate a Revolution for Good";
Famed Chilean chef Rodolfo Guzman and violinist Kai Kight are featured as "Passionate People";
A look into the future of travel with the experts from Euromonitor International in "Travel: 2030"
Complementing these inspirational speakers will be concurrent educational sessions centered around the themes:
Leadership: Moe Carrick, a leadership consultant heads two sessions — "Leading with Resilience" and "Culture Trumps Strategy"
Consumer Behavior: Professor Milena Nikolova shares "Travelers Explained: Behavioral Economics and Consumer Psychology" and Scott Friesen dives in with "Right-Sizing Big Data for Your Company" while Matt Barker advises "Measuring Your Content: Converting Audiences into Bookings."
Product Innovation: Ann Heidi Hansen shares her knowledge of "Designing Travel Experiences" and will encourage the workshopping of a customer experience toolkit. Also inspirational to product development will be the Indigenous Roundtable Discussion, as well as an optional WINTA (World Indigenous Tourism Alliance) Day after the Summit (October 10).
Operational Excellence: AdventureEDU preview course "Safety & Risk Management System for Adventure Tour Companies" led by Jean-Claude Razel and "Adventure Travel Guiding: The New Standard" with guide training experts Myles Farnbank and Dan Moore.
Partnerships: "Power of More: How to Use Strategic Partnerships to Achieve Your Business Objectives" and "Partnering with US Travel Agents to Grow Your Business" provide opportunities for delegates to learn more about expanding their client base.
Media & Storytelling: Each year ATWS offers delegates the opportunity to meet with the international adventure travel media during MediaConnect. Prior to an hour of pitching, delegates will learn about "Pitching Straight in a Shifting Landscape" and "The Power of Influencers."
MARKETPLACE will be a key feature of the Summit and strives to introduce outbound tour operators and travel agents to inbound tour operators from countries around the globe. Concurrent to MARKETPLACE will be a key session on "Conservation Travel: La Revolucion de la Aventura" where the conversation continues on mainstreaming conservation travel practices and new accessible tools and scorecards for delegates.
Building relationships is key to the strength of the adventure tourism community and the ability to affect change by openly sharing, reflecting and giving back. Networking during the Chilean Day of Adventure, coffee breaks and meals is encouraged and the Peer-to-Peer Exchange sessions, led by Moe Carrick, will also provide a framework for fruitful interaction.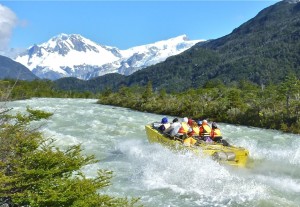 Summit delegates may also attend "Pre-Summit Adventures," three- to seven-day trips that allow adventure travel industry representatives to experience local tourism offerings by Chile's tour operators specializing in adventure.
Registration is open now for the 2015 Adventure Travel World Summit. Fewer than 75 spaces remain and the ATTA expects the event to sell out and registration to close in early July.
About the Adventure Travel Trade Association
Established in 1990, the Adventure Travel Trade Association (ATTA) serves more than 1,000 members in over 90 countries worldwide. Members predominantly include tour operators, tourism boards, specialty agents and accommodations with a vested interest in the sustainable development of adventure tourism. The ATTA delivers solutions and connections that propel members towards their business goals and the industry toward a responsible and profitable future. Through its regional AdventureConnect events and annual Adventure Travel World Summit trade conference, the ATTA excels in professional learning, networking and partnering services. With expertise in research, education, adventure travel industry news and promotion, members of the ATTA receive competitive opportunities that help establish them as leaders in adventure tourism. (www.adventuretravel.biz)
For more information:
To connect with us: