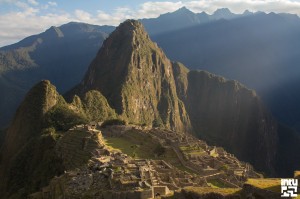 On September 12, 2015, Eduardo Pedraza and Diego del Rio of the INTU collective along with photographer / filmmaker Lukasz Warzecha started a 20 day journey from Machu Picchu in Peru to Patagonia and the southern tip of Chile. INTU designs and organizes travel experiences, and produce audiovisual content related to travel and adventure.
The idea grew from a meeting at the INTU Headquarters in Lima, following the realization that the Adventure Travel World Summit (ATWS) 2015 was going to happen in Chile. This was an opportunity for INTU to design and organize a trip that would focus on local people and culture and the concept of a pilgrimage to ATWS 2015 was born.
The pilgrimage will mix activities such as hiking, climbing, kayaking, surfing and mountain biking. The team will explore secret spots in the Cusco area, stay with local people on a Titicaca Lake island after arriving by kayak, experience Peruvian gastronomy and show new and fresh ways to travel in Peru. They will also explore Chile with the help of local people, find hidden waves and surf with a pro surfer, bike, hike, and enjoy starry skies over the Atacama Desert.
Readers can follow the journey in real time at facebook.com/intu.pe
More information on the pilgrims:
Eduardo Pedraza, Co-Founder / President of INTU – Travel curator, mountaineer, surfer and photography enthusiast. With 15 years in the adventure travel industry, Eduardo has specialized in the design and operation of experiences in Peru for travelers around the world. Seeks to incorporate activities to generate a real cultural immersion and break the bubble that differentiates a tourist from a traveler.
Diego del Rio, Co-Founder / Director of INTU – Mountain biker since age 8 and surfer since his 20s, Diego has traveled to the most remote areas of Peru unleashing a serious relationship with photography while learning about the cultural roots and traditions of Peru and the respect for nature. His work experience goes from Government entities to the Tourism private industry, working in the marketing area of Prom Peru, Lima Tours and Explorandes. With almost 12 years in the business, his passion for Peru and active tourism grows every day.
Lukasz Warzecha Photographer and film-maker who over the past 5 years have shot on 5 continents for The North Face, Mountain Equipment, Talisker Whisky and Tourism Ireland to name the few. Together with Wojtek Kozakiewicz he runs successful production company PolishedProject. Only last year alone their videos have been seen by over 4M people.
Contributing members are responsible for the accuracy of content contributed to the Member News section of AdventureTravelNews.