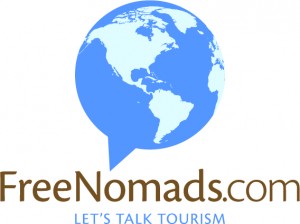 FreeNomads.com
 is a groundbreaking, web-based platform that has reached users in over 90 countries. FreeNomads.com is tailored for professionals in the tourism industry: tour operators, tour guides, hotel managers, transport providers; you name it, all harnessing the power of a travel-focused social network (and without the distractions that other networks would bring).
FreeNomads.com will assist you with marketing and promotion: design your business and personal profiles, upload pictures and videos, share news with other members of your tribe and connect with all the people you need to… instantly. Here you can find a naturalist guide for the Galapagos Islands in mid-December, share your calendar with a client in San Francisco, chat with your favorite hotel in Buenos Aires and book a traditional restaurant in Cape Town. All without leaving your browser.
Free key tools such as a travel planner, chat and email applications, map-based search engines, and directories to airports and flight schedules ensure that professionals in the travel business are connected and always on the same page.
Don't be left behind. Join FreeNomads.com  and commence your journey towards an exciting future in tourism!