Heliconia, producers of Facing Waves–North America's only paddlesport television series–is partnering with Eddyline Kayaks for an episode on location in the San Juan Islands.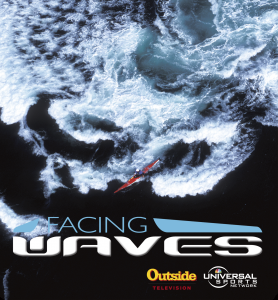 Heliconia, a leader in outdoors TV and WebTV production and distribution, is pleased to announce the partnership with Eddyline Kayaks for an episode of Facing Waves.  The episode will feature a paddling adventure with Eddyline Kayaks athletes while telling the stories of the people and history of the area. One particular attraction the Facing Waves crew hopes to capture is paddling with the orca's that call waters of the San Juan Islands home.
Now entering its 3rd season of filming, Facing Waves is the first and only paddlesports TV series of its kind. Each 30-minute episode showcases the world's top stand up paddling, sea kayaking, whitewater paddling, canoeing, and/or rafting destinations.
The Facing Waves episode in the San Juan Islands with Eddyline Kayaks is being filmed July 13th to 19th and will air in the United States on Universal Sports and Outside Television beginning in April.
"After building boats for so many years in the Skagit Valley and the San Juan Islands, we thought this project would be a nice way to give back to our friends and neighbors who make their living in this magical part of the world," says Tom Remsing, Director of Sales & Marketing for Eddyline. "The episode will showcase the region as one of the world's premier sea kayaking destinations, appealing to both the adventure paddler and the family looking to make their own adventure."
Watch the Facing Waves trailer and learn more about the series.
Contributing members are responsible for the accuracy of content contributed to the Member News section of AdventureTravelNews.