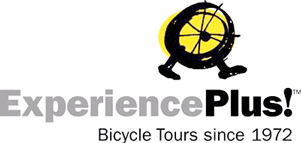 Founded in 1972, ExperiencePlus! is a bicycle tour company that focuses on actively engaging travelers—both physically and intellectually. They were the first U.S. based tour operator to offer bicycle trips in Italy, and since then have expanded to offer trips to over 15 destinations, coupling passions for exciting cycling and exploration to create unique travel opportunities for cyclists worldwide.
Encouraging authentic and engaging cultural exploration, the company specializes in innovative and strategic bicycle tour offerings, with an emphasis on personal attention; extraordinary cycling routes marked with easy to follow chalk dust arrows, high quality bicycles, and a "family" of interesting, fun, and down-to-earth customers.
Currently, ExperiencePlus offers unique bicycle tour opportunities in: Argentina, Bolivia, Chile, Costa Rica, Croatia, France, Greece, Hungary, Italy, Poland, Slovakia, Spain, Turkey, and Uruguay. Through their partners they have trips in: Australia, Canada, India, New Zealand, and USA.
A family-owned company that has spent more than 35 years dedicated to bicycling and the bicycle tour industry, ExperiencePlus! is a leader in international bicycle tourism. The ExperiencePlus! story began in 1972 when founders Rick and Paola Malpezzi Price cycled west from their family's farm in Forli, Italy, marking the first U.S. commercial bicycle tour through the country. In 2008 Monica and Maria Elena, Rick and Paola's daughters decided to purchase the company and continue the family tradition. Both Monica and Maria Elena have grown up guiding trips as well as actively participating in the designing of new tours.
Our Tours and Customers:
With a special focus on cycling routes designed for cyclists by cyclists, excellent tour leaders and authentic cultural experiences, ExperiencePlus! caters to the active traveler that is curious about visiting new cultures and enthusiastic about being outside. In addition, ExperiencePlus! customers are not shy about stopping and getting a cappuccino when they want, or taking a break to visit a Romanesque church that is off the beaten path.
Tour pricing includes: Comfortable lodging in 3- or 4-star hotels centrally located for easy town square access; all breakfasts and a majority of multi-course dinners featuring seasonal specialties and cultural beverages, wine or beer included; use of a high-quality 24-27 speed road bike, hybrid, tandem, or mountain bicycle geared specifically for specific tour terrain; and full van support to carry luggage or tired cyclists.
ExperiencePlus! also offers a greater variety of trip lengths so whether you prefer seven to eight day trips or 10- to 13-day, there is an itinerary for everyone.
Travelers are automatically enrolled in ExperiencePlus' Re-Cycle Program, in which travelers take four tours, and their fifth will be discounted by 50 percent of the average price of the previous four. The tenth trip is discounted by 100 percent of the average price of the previous nine!
Expanding Services:
In 2005 ExperiencePlus! began to rent bikes to travelers interested in touring on their own in Italy and France. This small endeavor has now become its own division of ExperiencePlus! Today, BikeRentalsPlus!, www.bikerentalsplus.com, partners with BikesPlus! SAS, an Italian company to offer bicycle rentals and incoming tour services in over 100 locations in Italy, France, and soon, many more European destinations. In addition, BikeRentalsPlus.com offers competitively priced self-guided tours as well as customized options and itineraries for a variety of cycling vacations. Perfectly placed in central Italy BikeRentalsPlus has helped provide bicycles, vans, itineraries and routes to incoming cycling tour operators for over 4 years now.