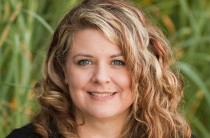 ExpeditionTrips—top travel specialists for experiential travel to Antarctica, Galapagos, the Arctic, and points in between—is pleased to announce Shelley Fry has been appointed as Marketing and Media Manager. Effective immediately, Shelley will be responsible for developing global marketing strategy, campaign implementation, media outreach, audience engagement, and partner relationships.
Ashton Palmer, ExpeditionTrips' founder and president, states: "I am excited at this growth opportunity for our company. With Shelley's depth of experience—fueled by her passion for expedition travel and grounded in a thorough understanding of our core clientele—she is uniquely qualified to lead our marketing team and for helping to develop our marketing strategy moving forward. Shelley will be instrumental in launching new initiatives, building and reinforcing strategic partnerships, and strengthening our brand in order to drive sales and increase revenue."
Shelley is a seasoned travel professional who has been with ExpeditionTrips for nearly a decade. She first joined the ExpeditionTrips family as a client, planning a voyage to see penguins in Antarctica with her mother, and she came on board as a team member shortly after her life-changing adventure. Shelley has been involved in numerous facets of the business ever since, and has managed logistics, process development, and training. While in her most recent roles as an Expedition Specialist and Social Media Manager, she has also been involved with multiple day-to-day marketing initiatives.
"Having helped thousands of travelers explore our amazing planet, and having experienced so many small-ship adventures myself, I have a deep personal connection to this unique style of travel," says Shelley. "I'm thrilled that as Marketing and Media Manager, I'll be able to leverage my expertise to broaden our audience, engage with our clients, and achieve even greater success for ExpeditionTrips."
You can read several of Shelley's trip reviews and articles.
Contributing members are responsible for the accuracy of content contributed to the Member News section of AdventureTravelNews.