Creating Layering Solutions that Utilize Cutting Edge Technology

Tukwila, WA – ExOfficio, a leading manufacturer of adventure travel apparel, has launched a new line of outerwear that utilizes Primaloft One and Polartec Wind Pro.
Keeping the meandering adventurer in mind, ExOfficio outerwear is engineered for travel, adventure and the ultimate performance while outdoors. This logical layering system works together to achieve the ultimate warmth and functionality. Focusing on durability and versatility, these pieces provide varied solutions for outdoor layering.
Storm Logic™ (MSRP: $120-$150)
Innovative Outerwear Utilizing PrimaLoft® One for Lightweight Insulation
How It Works
PrimaLoft One absorbs 3x less water, is 14% warmer when dry and 24% warmer when wet than the competitive insulation. This slightly puffy collection is engineered with specially treated ultra-fine fibers to form a water resistant insulating structure.
Wind Logic™ (MSRP: $95-$149)
Innovative Fleece Collection Utilizing Polartec® Wind Pro®
Made with Polartec® Wind Pro®, this fleece collection is breathable and provides 4x the wind resistance of traditional fleece.
4 times more wind resistant than traditional fleece
Warmth without weight
Highly Breathable
Machine Washable
Water repellent
Durable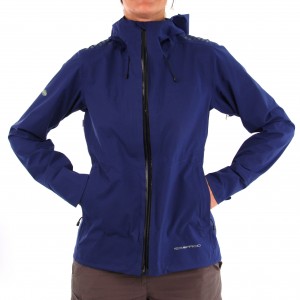 Rain Logic™ (MSRP: $199)
Introducing Waterproof, Breathable 2.5 Layer Fabric
How It Works
Made with mechanical stretch nylon that's laminated with a thin polyurethane membrane, treated with DWR and printed on the inside for additional abrasion resistance.
Water Repellency: 15,000mm
Breathability: 20,000g
About ExOfficio
ExOfficio was born in 1987 when two guys in a garage engineered a shirt with the functions of a fly-fishing vest, the ventilation of a cool breeze and the construction of a men's dress shirt. The company has created apparel known for innovative technical features and performance benefits ever since. ExOfficio is sold internationally in specialty outdoor, fly-fishing, travel and luggage stores. Products are available in ExOfficio retail stores and online. ExOfficio is devoted to enhancing worldly exploration through clothing and footwear that packs-well, performs and is durable enough for a lifetime of adventure.
For more information visit www.exofficio.com.