Advancing duffel design with the application of innovative fabric technology.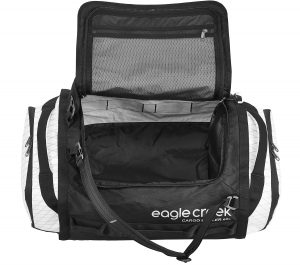 Owning the Duffel Category is not something Eagle Creek takes lightly. With the introduction of the new Cargo Hauler Special Edition, Eagle Creek continues to stake its claim as the leader in product design versatility and durability.
Building on the extremely successful Cargo Hauler Duffel franchise, the new Special Edition features water repellant X-Pac™ Dimension Polyant sail fabric, a 4-ply composite material featuring a polyester yarn diamond mesh embedded between layers to increase the tensile strength. This bag will hold more weight than you can carry.
"This duffel is really the culmination of all-things adventure travel. The selection of components and materials were inspired by the most technical gear found from the mountain tops all the way down to the sea," said Mark Davis, Product Design Manager at Eagle Creek. "The main body material is waterproof X-Pac performance sail fabric, the bottom is our highly abrasion resistant Bi-Tech™ Armor Lite material, the aluminum hardware is inspired by climbing hardware, and the ergonomic backpack straps are inspired by hiking packs. It was a lot of fun to combine all these components to create the ultimate combination of adventure-ready and travel-friendly."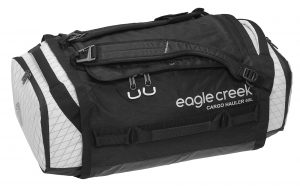 The Special Edition features quick-release aluminum snaphooks for backpack strap attachment, PU coated weather-resistant zippers, an internal zippered mesh pocket for organization, a padded handle wrap, Central Lock Point and a baffled end pocket. Thanks to storm-proof construction and impermeable sail fabric, the new Cargo Hauler Special Edition keeps goods dry when left out in the rain.
Color: White Diamond/Black
The new Cargo Hauler Special Edition will be available at retail 1/1/18.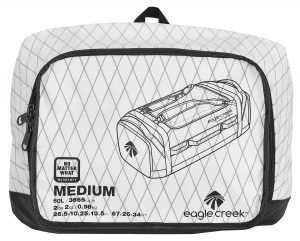 Cargo Hauler Special Edition Highlights:
A packable, hands free travel solution for every day or world-wide travel with upgraded features and striking looks.
Cargo Hauler Special Edition: (EC0A3KO8) MSRP $199
Capacity: 3665 cu in / 60 L; Weight: 2 lbs, 2 oz; Size: 26.5 x 10.25 x 13.5 in
Features:
Waterproof UTerrain X-Pac™ Dimension Polyant sail fabric, used to manufacture high-performance sails, for lightweight carry and ultra-durable performance
Padded ergonomic backpack straps feature moisture-wicking properties
Quick-release aluminum snaphooks hooks secure backpack straps to Hauler
Wrap handle snaps closed for convenient duffel carry
Two end gear pockets, One end pocket has a baffled divider wall for capacity expansion, the other end pocket reverses to become a zippered storage pouch for the entire duffel.
PU coated weather-resistant #10 zipper with storm flap to shield zipper from rain
U-shaped lid for easy access to main compartment
Thread lock through #10 lockable zippers and Central Lock Point to protect belongings against pickpocketing
Internal zippered mesh pocket for organization
Bottom is foam padded to help protect contents
Rectangular silhouette is ideal for stacking
Six heavy-duty lash points for attaching gear or tying bag to roof rack
Duffel packs into end pocket for compact storage (see above)
Contributing members are responsible for the accuracy of content contributed to the Member News section of AdventureTravelNews.