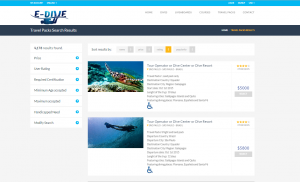 E-dive.com, a startup company, is proud to announce its online booking system that, although is not new for hotel or airlines bookings, is brand new for freediving related services.
This system will allow that the 34% (ATTA, 2013) of consumers that are already used to book their air tickets and hotels online to also book online freedivings, liveaboards, diving courses and travel packs. Also, it targets the whole 64% of internet users that research their next trip online and divers that just want to book their day by day dives with more convenience and faster.
"In recent years we have seen a revolution in the way people book their trips. Nowadays no one wants to waste any time going from a website to another to find the best price, quality, and cost-effective options.
When we go online to do this research we want as much information and options in one place and E-dive was created to fill this need among divers around the world," said Anna Carolina Caro, co-founder. "For instance, E-dive will allow divers from Japan to book their dive either in Japan, for a weekend dive, as well as to book the dive for their next vacation in Seychelles. And the same for divers worldwide".
What differs E-dive from its competitors is that only E-dive allows bookings for all types of freedivings as snorkeling, apnea, scuba diving, SLED, scooter, tec and rebreathing dives. Besides that, it will also allow users to book their next diving trip (whole package with hotels, divings, flights, etc) directly with tour operators online.
"E-dive's mission is to create a portal where divers know that they can go online and book any dive, anywhere" says Anna Carolina, "And we will not stop here as we are under development of an app so we can go mobile and make it even easier for booking dives".
At this point E-dive is working on partnerships with tour operators, dive centers and liveaboard fleets and will be launched for general public on December 1st.
Contributing members are responsible for the accuracy of content contributed to the Member News section of AdventureTravelNews.