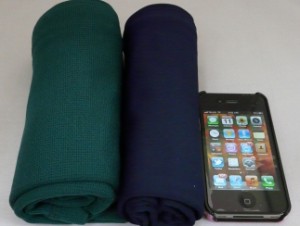 It's one of those products that you, frankly, start off having some doubts about; "Can this little thing really absorb enough water to dry me off?"
The Ultralite Backpacking Towel is so small (only 98 grams for their smallest model) and supple that you can't help wonder about its functionality – that is until you start to use it.
This little guy, which packs up wonderfully small, really sucks up the juice. Whether you're taking a backcountry shower, fighting to keep the sweat off your brow, or just getting out of the hotsprings, this towel will suck the excess moisture off your body in seconds.
I've used mine now from Switzerland to Mozambique and it's been a fantastic, tiny little addition to my gear that's come in exceptionally handy for a variety of outdoor adventures.
Manufacturer: Discovery Trekking
Product: Ultralite Backpacking Towel
Product type: Towel
Website: http://www.discoverytrekking.com
Product webpage: http://www.discoverytrekking.com/ultralite-backpacking-towel
MSRP (in USD): $12-19.95 depending on size