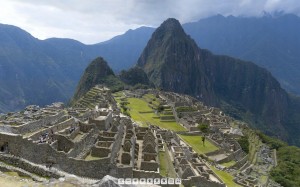 Lima, PERU – Peru's visionary leader in sustainable tourism, Rainforest Expeditions, recently sent its photo tour director Jeff Cremer away for some rest and recreation. Cremer returned with what he believes may well be the highest resolution (15.9 gigapixels) photo of Machu Picchu ever taken.
The unprecedented image has been made available to the public on a special web page http://www.gigapixelperu.com. Users can explore the remarkable detail of the photo by zooming in and out of the image.  Individual snapshots may also be taken from within the image.
A behind the scenes video on the taking of the photo was created by Destin Sandlin of the YouTube channel Smarter Every Day. Watch it here.
Cremer's work was partially assisted with professional equipment regularly used in photography tours based from Rainforest Expeditions' three eco-lodges deep in the Peruvian Amazon. Cremer used a Canon 7D with a 100-400mm f/5.6 lens and a Gigapan Epic Pro mount and Gitzo Basalt Explorer tripod.
The photo consists of 1920 separate images recorded by a photo-robot in 1 hour and 42 minutes. To stitch the image together a 2.67Ghz Hexacore MacPro with 32GB Ram and an OCZ 960GB RevoDrive was used. Render time was 1.5 hours. The final resolution of the image is 297,500 x 87,500 pixels or 15.9 gigapixels.
Oversize prints (2m x .68m) on photographic paper at $400 each can be ordered here.
"Machu Picchu is one of the Seven Man-Made Wonders of the World and the most familiar icon of the ancient Inca," explains Cremer when asked about his destination choice for the photo. "In 2008, the World Monuments Fund placed it on its Watch List of the 100 Most Endangered Sites in the world due to environmental degradation mostly from tourism. Beautiful, historical and threatened, I believed that this extraordinary site deserved a remarkable photo to hopefully raise awareness and help in its preservation."
When not applying his craft elsewhere with the same state-of-art, professional-quality cameras, lenses, tripods and flash available for guests to use on Rainforest Expedition Nature Photograph Tours, Cremer arranges and leads 7-day/6-night photo tours from eco-lodges perched along the wild Tambopata River in the Peruvian Amazon. Shorter 5-day programs are also available. All of these tours have been specifically designed to let clients experience what it is like to be a National Geographic wildlife photographer. Find out more here.
While in the field participants may try out the latest high tech gear including Canon 600mm f/4 lenses, carbon fiber tripods, specialized macro lenses that can photograph in startling clarity the eyes of an ant, and robotic panorama cameras that can make photos of over 100 gigapixels. In addition to camera usage, workshops include topics on Photoshop, photography and ethics, the psychology of beauty and technical presentations on how digital cameras work. For a sampling of equipment for use see here.
The per person double occupancy rate for a seven day photo tour is $2,521; a single supplement is $330. Photography equipment, lodging, meals, activities, jungle guides, photography instructor and transportation while on tour are included in the package. Find out more here.
Rainforest Expeditions' lodges are accessed from Puerto Maldonado airport arriving from Lima or Cusco on daily commercial flights lasting 45 or 90 minutes respectively. A bus transports guests to the Infierno River Port to board motorized wooden canoes for a 45-minute trip to the first lodge, Posada Amazonas. Refugio Amazonas, the second lodge, is a 3.5-hour boat trip after departing the bus. The third and most remote is Tambopata Research Center, requiring a 4-hour additional upriver boat ride from Refugio Amazonas.  Each lodge is only a few minutes on foot from the river bank.  Find out more here.
Contributing members are responsible for the accuracy of content contributed to the Member News section of AdventureTravelNews.