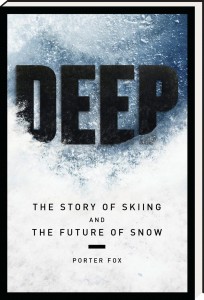 In his stunning first book, veteran ski writer Porter Fox captures the 8,000-year-old sport of skiing, the miracle of snow and the shocking truth of how climate change could wipe out both in the next 75 years. DEEP: The Story of Skiing and the Future of Snow follows the unlikely rise of skiing from prehistoric Norwegian hunters to nobility in the Alps in the 1800s to present-day freeriders on the vaunted slopes of the Rocky Mountains. On his global tour of the most celebrated mountains in the Northern Hemisphere—from Washington's Cascade Range to the European Alps—Fox talks to alpinists about the allure and mysticism of the sport and to scientists about climate change and its effect on snow—ultimately finding a story that is far larger than the demise of skiing.
For the seven million skiers in America who dedicate their winters to tracking storms and waking up at dawn to catch the first chairlift, the lifestyle change that comes with global warming will be radical. It will likely be far worse for the rest of the world. Fox uses primary interviews and evidence, mixed with groundbreaking scientific studies, to explain exactly how and when the Great Melt will play out—and the tremendous groundswell that is rising up to stop it. DEEP provides firsthand accounts from skiers and scientists who are mapping a way to mitigate climate change, reduce human impact on our planet and repair the water cycle. As it turns out, their efforts to save snow and ice might end up saving the world.
"Skiing offers a good barometer of the trouble we're in—and, as this book reminds us, one more good reason for wanting to face that trouble." —Bill McKibben, author of Oil and Honey and co-founder of 350.org
"This is the most important book on snow ever written. This is a wake up call. We need to accept our reality and get busy fixing climate change." —Jeremy Jones, pro snowboarder and founder of Protect Our Winters
Join the movement to save snow and share the DEEP Kickstarter campaign!
Contributing members are responsible for the accuracy of content contributed to the Member News section of AdventureTravelNews.