Adventure travel company launches life-transforming travel concept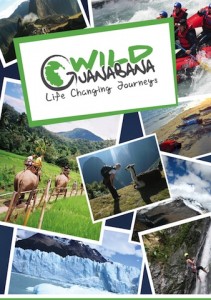 From blissful yoga retreats in Zanzibar to surfing holidays in Costa Rica, Wild Guanabana is transforming travel for those in search of inspiration on their next holiday. For families, individual travelers, even honeymooners, looking for a new adventure, Wild Guanabana specialises in creating highly personalized travel experiences to wild and wonderful destinations in a manner that is organized, safe and fun.
Inspired by his own travel experiences (and his favorite exotic Latin American fruit), Omar Samra, famed Egyptian mountaineer and adventure traveler, launched Wild Guanabana in 2009 as a travel concept to deliver sustainable and ethical adventures for people who want to learn more about themselves and the world. The company has opened its new headquarters in Dubai and is on a mission to inspire.
"Wild Guanabana is not an ordinary travel company. Just like my favorite fruit, Wild Guanabana is daring, different and green. Our fun and ethical journeys offer travelers meaningful emotional connections with fellow travelers and the destinations and cultures they encounter. At Wild Guanabana, we design journeys that have the potential to empower others to fulfill their dreams," said Wild Guanabana founder, Omar Samra.
And for those eco-friendly travellers concerned about their carbon footprint, Wild Guanabana is a firm believer in the saying – "take only pictures, leave only footprints." The company is the Middle East and North Africa's first CarbonZero travel company and every one of its journeys is certified carbon neutral.
Individuals interested in a Wild Guanabana adventure can design a fully customized journey in consultation with a Wild Guanabana travel specialist or choose from a range of expertly curated journeys that include Signature Journeys, Family Adventures, a Connoisseur Collection and even Wild Honeymoons!
Every Wild Guanabana journey is designed with first-hand knowledge of the destination.
"Travel is about self-discovery and can be a therapeutic experience that opens up new perspectives for people and their everyday lives. Wild Guanabana is building its growing network of customers into a connected and engaged community, or 'Tribe', of like-minded travelers. The aim of this 'Tribe' is to share experiences and inspire others to join the Wild Guanabana travel revolution," added Samra.
The Wild Guanabana travel revolution is not only focused on individual journeys, the company also offers 'voluntourism' (volunteer tourism) journeys under its "Wild Learning" moniker as well as corporate journeys.
To learn more about Wild Guanabana and its life-transforming journeys visit – www.wildguanabana.com
Contributing members are responsible for the accuracy of content contributed to the Member News section of AdventureTravelNews.