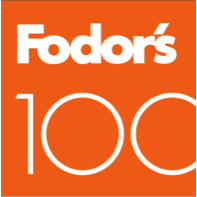 New York, NY – Fodor's Travel, the leading name in travel guides for more than 75 years, today announced that Cottar's 1920s Safari Camp has been recognized as a 2014 Fodor's 100 Hotel Award winner. This distinction designates Cottar's as an outstanding destination, selected by Fodor's editors and travel experts, recognizing high style, excellent service and a remarkable experience for guests.
Each year, Fodor's Travel invites their roster of 500 global contributors to nominate the best hotels in the destinations they live and write in.  This year, Fodor's senior editorial team deliberated on over 4,000 Fodor's Choice picks, poring over the list for months and narrowing their top selections into eight categories.  Cottar's was selected as part of Enduring Classics, properties that are legendary around the world.
Calvin Cottar, owner of Cottar's 1920s Safari Camp, said:  "We are very pleased and proud to have been selected for this prestigious award.  It is our goal to extend the original spirit and essence of 'safari.' That includes an abundance of wildlife, privacy in the Bush and the highest standards of professional guiding, all in a luxurious and unique 1920s style environment.  This award is a tribute to our staff who help us retain the original spirit of the Camp.
Other categories in the Fodor's Awards include:  All-inclusive Vacations, Beach Getaways, Boutique Chic, Country Retreats, Modern City, Small Hotels, and Trip of a Lifetime.
"At Fodor's Travel, we know our travelers have high expectations from the moment they check into a hotel — and so do we," explained Arabella Bowen, Fodor's Travel Editor in Chief. "Our 100 Fodor's Hotel Award winners go above and beyond these expectations with their winning mix of service, setting, style, and amenities. We're confident that a night at any of these properties will be a highlight of the trip."
As a 2014 Fodor's 100 Hotel Award-winning property, Cottar's 1920s Safari Camp will be featured on www.Fodors.com. A complete list of all 100 selected hotels is available here.
Fodor's Travel covers 7,500 destinations and more than 17,000 of the best hotels around the globe, each of which receives an in-person evaluation. Fodor's editors' decades of experience helps take the guesswork out of trip planning, recommending only those hotels, restaurants, and things to do that meet their high standards, and designating the absolute musts with "Fodor's Choice." Whether travelers use print guidebooks, ebooks, mobile apps, or Fodors.com, Fodor's provides highly curated advice on how to travel smarter, including the best arts and culture offerings, where to eat and stay at every price point, and tips and strategies for an authentic and immersive experience.
Contributing members are responsible for the accuracy of content contributed to the Member News section of AdventureTravelNews.