Assistant Editor's Note: The following article is an Op-Ed guest post from Serengeti Watch, an organization that the ATTA has supported via AdventureTravelNews in the past, as we agree that this is a sustainability issue of key importance.
China's new president, Xi Jinping, is on the move. His first stop, Russia, second Tanzania, then South Africa and the Congo.  Those of you who have followed the ongoing saga of the Serengeti know what this means…
As the illicit blood ivory trade to China clearly illustrates, massive new Chinese investment does not bode well for Africa's wildlife. China is intent on extracting as many resources from Africa as it can. And it doesn't attach strings to protect natural areas as Western donors often do. The Serengeti, it may turn out, is simply in the way.
In Tanzania this week, China's president will inaugurate the construction of a new sea port at Bagamoyo. Though small, the port reflects China's interest in shipping resources from deep inside Africa. China has had a long relationship with Tanzania, which provides an ideal outlet for neighboring landlocked countries.
As we have reported, big plans for transport corridors throughout East Africa have been thrown about for years. But now these are building momentum and coming off drawing boards.
The World Heritage Site of Lamu in Kenya is undergoing massive port development. Another new port at Mwambani harbor in Tanzania is expected to be the terminus of a railway to Lake Victoria and Uganda. See: Tanzania and Uganda sign rail pact with Chinese
An article in the Tanzanian press last November stated that this transport corridor…
"is expected to pass through the world famous Serengeti National Park, a development which environmentalists had vehemently opposed, arguing that with noisy trains passing through the wildlife sanctuary the ecosystem would be disrupted. This is what had caused the plan to be shelved during the reign of the late President Julius Kambarage Nyerere when the idea was first mooted in the late 80s."
A united and vocal tourism industry offers perhaps the best hope of protecting and preserving the Serengeti and East Africa's other natural treasures from short-sighted and ill-advised development schemes. Tour operators and other travel providers can get involved in the battle to protect the Serengeti by joining Friends of Serengeti, the travel industry arm of Serengeti Watch, today. To learn more visit their website or contact Matt Kareus at [email protected]. Adventure Travel Trade Association members will receive $100 of the annual membership fee if they join before April 30th, 2013.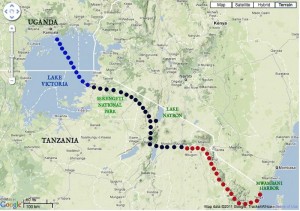 We're in the top 3% of US nonprofit organizations!
"Only 3% of the charities we rate have received at least 6 consecutive 4-star evaluations, indicating that Earth Island Institute outperforms most other charities in America."
– Ken Berger, Charity Navigator, President & Chief Executive Officer