Brand USA leadership will meet partners in Montreal at Destinations International convention this week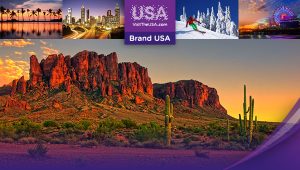 Brand USA – the destination-marketing organization for the United States – has named Maria Sheetz as director, Partnership Development. Having joined Brand USA in May, Sheetz now leads the effort to develop and maximize partner engagement, retention, and growth in Brand USA's cooperative-marketing programs. She will concentrate on guiding the creation of revenue-generating partnerships and strategies for all of Brand USA's domestic-based partners.
"We look forward to further cultivating our increasingly successful partner programs under Maria's experienced leadership," said Karyn Gruenberg, Brand USA's senior vice-president for Partner Marketing and Strategic Alliances. "Our ever-expanding network of partners has been a driving force in Brand USA's ongoing efforts to raise the level of international tourism to the United States, as we feature the destinations, attractions and travel experiences that our partners offer."
Brand USA currently has more than 700 partners worldwide. "We use an array of promotional programs and opportunities to make it possible for all of our partners – large and small – to leverage Brand USA marketing well beyond what they could do on their own," Gruenberg said. "These campaigns are designed to promote all 50 states, the District of Columbia and the five U.S. territories as destinations for international travelers. They spotlight both urban and rural areas, including places that are beyond traditional gateway destinations."
A few weeks ago, Gruenberg hosted a webinar for Brand USA partners, titled Partner Marketing Opportunities 2018. The session focused on Brand USA's line-up of cooperative-marketing programs that are available for its partners presently and into 2018.
Brand USA officials, including Gruenberg and Sheetz, will be at the annual convention of Destinations International, the U.S.-based advocacy organization for destination-marketing professionals, July 11-14 in Montreal. Destinations International recently changed its name from Destination Marketing Association International (DMAI).
Sheetz has 16 years of experience in the travel and hospitality sector, in particular with national sales, strategic partnerships, and marketing and advertising. Prior to coming to Brand USA, she was senior director for national sales and business alliances at Amtrak, where she managed efforts to enhance ridership and revenue on Acela, and long-distance and state-operated trains across the United States. Acela is Amtrak's flagship service along the Northeast corridor between Boston and Washington, D.C.
She also had worked for Choice Hotels International as senior director for account management and marketing within Choice's strategic partnership group. In that role, she led the effort to promote the products and services of Choice partners among hotel franchisees, hotel owners and consumers.
Sheetz graduated from Wheaton College (Massachusetts) and subsequently earned an MBA from the Johns Hopkins Carey Business School. She is a native and resident of Arlington, Va., where she resides with her husband and three daughters.
Contributing members are responsible for the accuracy of content contributed to the Member News section of AdventureTravelNews.