Fresh new looks at andBeyond's lodges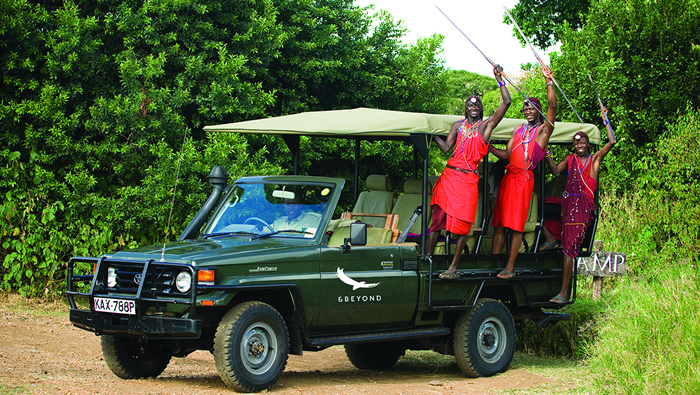 As one of the world's leading experiential travel companies, andBeyond is committed to delivering extraordinary guest experiences. In line with this, we have planned a considerable investment in our safari lodges and camps. The upgrades will ensure that your guests experience a consistently high standard in our trademark brand of natural luxury. Together with our warm hospitality and some of Africa's most highly trained rangers, our brand new look will continue to captivate the hearts of your guests keeping them coming back again and again.
Here is an update of the activities that have been completed or planned.
KENYA
andBeyond Kichwa Tembo Tented Camp
An extensive rebuild is planned at andBeyond Kichwa Tembo and 28 of the camp's suites, as well as its guest areas, will take on a brand new look. The rich history, romance, nostalgia and classical safari charm that define andBeyond Kichwa Tembo will be preserved.
New Vehicles
Four new game viewing vehicles have been added to those already in operation, with another four scheduled to arrive next year.
Work planned
A total of 28 suites will receive a new look, as will the camp's guest areas, ensuring that all of andBeyond Kichwa Tembo's classic safari tents, now renamed superior tents, are upgraded.
Modular and contemporary guest areas comfortably accommodate a larger number of guests in high season without losing a sense of intimacy in quieter periods.
Creative food preparation areas, including an organic vegetable garden, make mealtimes more interactive and provide more dining options.
Elevated guest suites will make the most of the camp's spectacular setting, with an increase in the number of suites boasting Mara views.
Guests can enjoy participative cultural experiences with the Maasaai in a new open-air boma.
A redesigned Safari Shop will showcase selected local arts and crafts.
Timing
A total of 28 suites will be closed from 15 October 2013.
The camp's 12 luxury tents on the Sabaringo River will remain open throughout the rebuild period , with a makeshift main area erected to minimize impact on the guest experience.
Bookings currently held for andBeyond Kichwa Tembo Tented Camp during the rebuild period will be accommodated in the luxury tents or at andBeyond Bateleur Camp, its sister property.
The newly rebuilt camp will open on 1 July 2014.
TANZANIA
The fresh new touches at our Tanzanian lodges are detailed below. In addition to these changes, the bench seats in the game viewing vehicles at andBeyond Lake Manyara Tree Lodge, andBeyond Grumeti Serengeti Tented Camp and andBeyond Klein's Camp have been converted to comfortable bucket seats.
Combined with the vehicles at andBeyond Serengeti Under Canvas and andBeyond Ngorongoro Crater Lodge, which were already equipped with the bucket seats, this means that andBeyond's entire East African fleet of 34 game drive vehicles now boasts the more comfortable seating.
andBeyond Serengeti Under Canvas
Work completed
The nine tents are larger and more comfortable , ensuring an exceptionally luxurious guest experience.
Double showers and a shower caddy, filled with andBeyond's trademark bath amenities have been installed, ensuring more light and space.
The tents have been extended by an additional two metres (six feet), making room for the addition of an indoor sitting area with comfortable chairs and a day bed, creating a space where guests can relax in the privacy of their own tent.
The tent height has been increased by 13 centimetres (five inches) to create a more spacious atmosphere and accommodate taller guests.
The tents now feature personalised cooler boxes, stocked to the guests' preferences by their personal butler.
Safety deposit boxes have been installed, adding an extra layer of safety in an already secure environment.
Wifi is available in all guest tents, affording the possibility of staying in touch from the privacy of the tents.
Work planned
A further nine tents will be installed in November 2013.
andBeyond Grumeti Serengeti Tented Camp
Work completed
Dining areas have been opened up to the boma area, providing a more open and relaxed dining experience, as well as the option to dine indoors or al fresco.
A full soft refurbishment of all the rooms has been completed, showcasing a refreshed natural colour palette.
andBeyond Lake Manyara Tree Lodge
Work completed
The swimming pool deck has been replaced and the swimming pool has been resurfaced, creating more space for guests to enjoy the warm African days.
Work in progress
A massage sala is being constructed on a platform situated high in a mahogany tree and will be completed in mid-August. This will create a tranquil place for guests to enjoy massage treatments while making the most of their natural surroundings.
andBeyond Klein's Camp
Work completed
A new arrival area in the shape of a traditional Maasai boma has been constructed, creating an authentic cultural atmosphere for arriving guests.
Guest areas have undergone a soft refurbishment, with all sofas and chairs reupholstered.
Cottage pane shutters installed in guest areas allow guests to make the most of the camp's spectacular views while ensuring interiors remain cosy at night.
New lighting has been installed in the camp's bar area, creating a brighter and more inviting area for guests to enjoy leisure time.
Outdoor furniture has been replaced and the swimming pool area has received a brand new look, providing guests with a number of comfortable outdoor areas to relax between activities.
Gravel pathways have been replaced with tiled stone, making it easier for guests to get around the camp.
New jikos, or traditional ovens, keep the dining room warm on chilly evenings.
A number of improvements have been made to add to the comfort and ambiance of guest cottages, including new lighting throughout the cottage, new mosquito nets and new basins and taps in the cottage bathrooms.
Bathrooms have been refurbished for a more modern and open look.
BOTSWANA
andBeyond Sandibe Okavango Safari Lodge
Scheduled to undergo a complete rebuild, Sandibe is set to become Botswana's quintessential Okavango Delta experience. Retaining the camp's romantic, ethereal essence, the new design will draw its inspiration from nature, pioneering a new look that is serene, earthy and organic.
Work completed
A comprehensive soft refurbishment was carried out in the lead up to the rebuild, ensuring that our lodge maintains our trademark sense of luxury.
Work planned
andBeyond Sandibe will be completely rebuilt and re-launched on 1 July 2014, providing you with a brand new accommodation option for guests that combines a fresh look and style with the backing of andBeyond's world renowned hospitality and exceptional guiding.
Raised guest areas and suites closer to the Santantadibe channel, will provide guests with spectacular Okavango Delta views enhancing the experience of being in the midst of this extraordinary environment.
Seven new suites will bring the total complement of rebuilt rooms to 15.
A private plunge pool and fireplace in each room add to the exclusivity and privacy.
Indoor and outdoor lounging spaces in the suites will include cosy nooks for private dining.
An interactive kitchen and interpretive naturalist library add to the guest experience.
All traces of concrete will be removed and energy use will be reduced by 70%, improving on our already impressive sustainability credentials.
Timing
Construction has been planned in four stages to minimise impact on guests. Three guest suites and the pool area will be closed from September 2013, followed by the temporary closure of the entire lodge from January to June 2014.
Eight of the new suites will open on 1 July 2014.
The remaining suites will welcome their first guests on 1 September 2014.
SOUTH AFRICA
andBeyond Phinda Private Game Reserve
Roofs have been scheduled for re-thatching at andBeyond Phinda Mountain Lodge and Vlei Lodge in September 2013.
The reserve has acquired two new Toyota Fortuners for its Phinda Adventures – specialist activities that take place outside the reserve.
andBeyond Ngala Private Game Reserve
The reserve has a new Toyota Fortuner transfer vehicle, as well as two new game viewing vehicles, for additional guest comfort.
The Family Suite at andBeyond Ngala Safari Lodge is due to undergo a soft refurbishment, while the guest rooms have been scheduled for re-thatching. Both updates to be completed by end November.
Sabi Sand Game Reserve
A soft refurbishment has been carried out at andBeyond Leadwood Lodge.
Photographic equipment is now available for hire at all andBeyond's lodges in the Sabi Sand. This can be booked and paid for at the lodge.
Contributing members are responsible for the accuracy of content contributed to the Member News section of AdventureTravelNews.