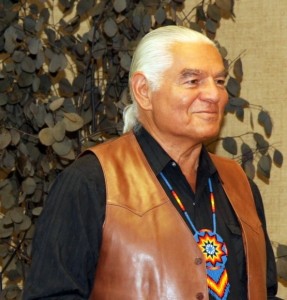 Mr Ben Sherman has been elected Chairman of the World Indigenous Tourism Alliance (WINTA) Leadership Council. He is one of the founders of WINTA. His experience spans 20 years in the tourism industry.
Sherman is a member of the Oglala Lakota (Sioux) Nation, from the Pine Ridge Indian Reservation in South Dakota, USA. Sherman and his siblings were brought up on their original family land allotment on the reservation. He graduated high school at Oglala Community School, a government boarding school on the reservation. He holds a Masters degree in Business Management.
Sherman has been a national leader in American Indian tourism development and has presided over numerous American Indian tourism development activities in the U.S. He is a founding member of the Native Tourism Alliance, Business Enterprises for Sustainable Travel, First Peoples Fund and the American Indian Alaska Native Tourism Association. He organized and conducted American Indian cultural tours throughout the western United States.
Sherman replaces Mr Neville Poelina as Chairman of WINTA. Mr Poelina, an Aboriginal tourism operator based in Western Australia, steps down after serving for two years.
Reflecting on the past two years, Sherman said "the establishment of WINTA was necessary, especially given the many voices from around the world seeking an Indigenous-led organization to facilitate positive engagement between Indigenous peoples and the tourism industry."
"In looking to the future, WINTA will work with Indigenous communities and the tourism industry to ensure Indigenous peoples participate as equals in all decision-making processes regarding tourism on their land and territories," said Sherman.
"There are some compelling examples of Indigenous community tourism successes that WINTA is celebrating. I am confident that as WINTA develops strategic partnerships with other tourism industry organizations, we can accelerate the occurrence of similar successes," said Sherman.
"As we proceed ahead, we will provide strong advocacy for the principles contained in the United Nations Declaration on the Rights of Indigenous Peoples. A lot of work must be done to redress the injuries done to Indigenous communities around the world," Sherman said.
WINTA sees enormous potential of Indigenous peoples to assist in redressing global imbalances in human relationships with nature and within society. Some 370 million Indigenous peoples live around the world, from the Arctic to the South Pacific, in over 90 countries. Indigenous peoples are responsible for a significant proportion of the world's linguistic and cultural diversity, and their traditional knowledge is an invaluable resource. Indigenous peoples occupy an estimated 20 per cent of the world's land surface. They steward more than 80 per cent of the planet's biodiversity within their traditional homelands.
Contributing members are responsible for the accuracy of content contributed to the Member News section of AdventureTravelNews.