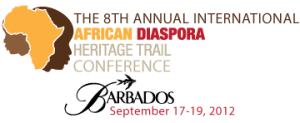 The Caribbean island of Barbados is set to host the 8th Annual African Diaspora Heritage Trail (ADHT) Conference, from September 17 to 19, 2012.  This conference which will be held under the theme, "Our Heritage, Our Identity: Uncover, Recover, Discover", is expected to bring renewed focus to the rich histories of the African Diaspora; provide fresh insights to attracting the ever-expanding cultural heritage tourism market and provide developmental opportunities for a network of collaborators committed to identifying, building, promoting and marketing cultural heritage tourism destinations.  This 8th ADHT conference will therefore provide the forum for the people of the African Diaspora to deliberate and ventilate on issues and conc! erns that are pertinent to uncovering the past, recovering lost memories, discovering African identities and ultimately, the harmonisation of these views.
In addition to the traditional opening and closing ceremonies, the conference programme will comprise a number of concurrent sessions and panel discussions.  Topics to be addressed include: Recovering Our Ancestral links; African Retentions in the Caribbean; African Spirituality in the Caribbean; Black Resistance Music of the Diaspora; Road Marches of the Caribbean; Protected Areas and Spirituality; Mute Memory: Letting Artefacts Speak and  Cultural Resistance to Slavery.
We invite you to visit the website soon, at www.adhtbarbados.com to complete your conference registrations. Ground transportation needs for all delegates will be met by the Government of Barbados.
Come and experience the 8th ADHT Conference in Barbados: come and experience Freedom Footprints: the Barbados Story as well as our breathtaking tourism attractions and other places of interest including our UNESCO World Heritage Property, Historic Bridgetown and its Garrison.  Barbados welcomes you.
Contributing members are responsible for the accuracy of content contributed to the Member News section of AdventureTravelNews.