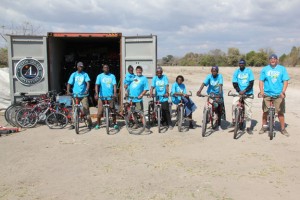 Billings, MT– Award-winning tour operator Austin-Lehman Adventures (ALA), the active travel company setting adventure tours standards in The Americas, Europe, Africa and beyond, is honoring National Bike Month with a $200 donation to Wheels of Change, a non-profit charity, in the name of each person booking one of their dedicated biking tours during the month of May.
Wheels of Change provides donated bicycles to underprivileged African communities. Donations will help defer the cost of shipping 400 bikes, parts and tools.  Through a community effort, ALA has collected the bikes and will pack them for shipment on Mothers' Day weekend. Collection of bikes, parts and tools began shortly after last year's spring shipment of bikes to Ngoma, a remote village in the far eastern corner of Namibia. This year's shipment will go to Nairobi, Kenya.
Active cyclists wanting to put their trip fee toward a worthwhile cause are encouraged to book their bike vacation now. Some of ALA's most popular biking tours in 2011 include:
>South Dakota: Black Hills to Mount Rushmore – http://www.austinlehman.com/black-hills-vacations-trips-79.php
>France: Provence – http://www.austinlehman.com/france-bike-tour-trips-59.php
>Germany: Romantic Road – http://www.austinlehman.com/europe-bike-trips-trips-77.php >Holland/Belgium: Brussels to Gent – http://www.austinlehman.com/holland-biking-tours-trips-73.php
>Italy: Tuscany – http://www.austinlehman.com/tuscany-bike-tours-trips-61.php
>Switzerland/Germany: Lake Constance to Zurich –
http://www.austinlehman.com/switzerland-vacations-trips-74.php
Dan Austin, owner and founder of ALA, noted that a bike, that can change a life in a poor country, remains financially out of reach for millions. Wheels of Change helps empower people through improved mobility and access to food and water, employment, healthcare, education and social opportunities.
For example, a healthcare worker can visit up to four times more clients by biking instead of walking; girls are 70 percent more likely to attend school if their household owns a bicycle; in 60 minutes biking can cover three times the distance of walking; a person biking can carry five times more than while walking.
"The efforts of this organization will allow us to make a positive impact on the people who need it the most," Austin said.
The May shipment of bikes to Nairobi marks the first official initiative of the just-established nonprofit, Africa-based organization Wheels of Change founded by Michael Linke (http://www.benbikes.org.za/namibia/) and represented in Billings by Austin. Linke has helped establish 26 up and running bikes shops throughout Namibia, including the Billings-supported shop in Ngoma.
Contributing members are responsible for the accuracy of content contributed to the Member News section of AdventureTravelNews.