With the global travel community in upheaval as we work through the ramifications of the COVID-19 pandemic, we hope that educational opportunities for our members, and community, allow us all to look to the future when travelers will return, in force.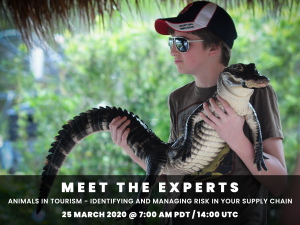 As a community-driven organization, the Adventure Travel Trade Association (ATTA) believes in the power of our network. In the last few months, we have been working on a new virtual educational program that will be a platform for expert advice from members to the adventure travel community (and free to ATTA members). "Meet the Experts" will be delivered in webinar format allowing adventure travel professionals from anywhere around the world to join and benefit from the carefully curated topical discussions. Every edition will be led by an expert from our community who will address a specific professional topic. Within 60 minutes members will benefit from a presentation and the opportunity to ask questions and engage in discussion with the guest expert. They will also receive advice for further resources and opportunities for advancing their knowledge in the respective area. 
The topics presented in "Meet the Experts" are identified based on recommendations from our community and our team's observations of issues that are relevant to current industry dynamics. For example, the inaugural edition of the series is focused on current issues with animal welfare. We know that as a result of the growing ethical concerns about animal-based experiences, a lot of operators have simply taken them off their portfolio. This, however, creates other animal welfare challenges as the lack of business makes it impossible for local suppliers to take care of animals. Therefore, during the first Meet the Experts session, Daniel Turner from Animondial will explain how to continue offering animal experiences in a safe and ethical manner. He will also touch on the important aspects of safety related to interactions with animals, including the potential for physical injury or the risk for transmission of diseases, such as coronavirus. Future editions will cover topics such as smart use of digital sales channels, and translating industry trends to specific actions for your business.   
"Meet the Experts" is designed and launched as part of ATTA's AdventureEDU portfolio as a format that is especially geared towards ATTA members. The aim is to present our community with current and relevant themes that help maintain professionalism and relevance in the fast-changing dynamics of our industry. The great value is that we are sharing this knowledge within the community and benefitting from the expertise of the many outstanding professionals in our network. 
"We have a wealth of knowledge and adventure travel industry experience within our community. This new Meet the Experts series is a platform for ATTA members to gain access to this treasure trove of wisdom and for these experts to share their learnings with today's and tomorrow's business leaders," commented Mira Poling Anselmi, Director of Membership at ATTA. 
"Meet the Experts" sessions will be free for ATTA members who will also have access to the recordings. Non-member guests can join any edition for a small fee. Topics and expert guests will be announced through ATTA's social media and other communication channels.