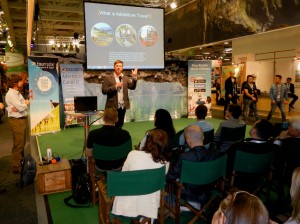 Encouraged by ITB-Messe-Berlin, organizers of the world's largest tourism trade show, the Adventure Travel Trade Association (ATTA) on 5 March 2014 held an an encore performance of last year's successful AdventureConnect in the center of the Adventure Travel and Responsible Tourism hall, which has seen year-over-year growth since the ATTA began participating in 2011. ATTA and partner, TourRadar, hosted this AdventureConnect, gathered healthy participation from destinations, operators, industry partners and media who define and represent the growing adventure, outdoor and responsible travel industry.
Following an update from ATTA President Shannon Stowell, Vice President Marketing & Communications Casey Hanisko shared recent ATTA developments such as the launch of AdventureEDU, new AdventureWeek destinations for 2014, and offered a preview of findings from the ATTA's 2014 Industry Snapshot. Chris Doyle, ATTA's Executive Director – Europe, then led the group in a peer-to-peer exchange.
Participants formed small groups with industry peers working in different destinations and markets. Each region and type of travel comes with its unique challenges and experiences, but the ATTA often finds that cooperation between representatives of the entire supply chain tend to yield better insights and fare better when facing challenges together. ATTA joined in some discussions and eavesdropped on others. Scribes from each group shared the following results which offer a high-level look at the questions asked, along with some instant, informal focus group responses: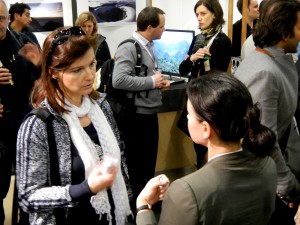 Research & Marketing Needs
What industry intelligence do you believe can most advance the global adventure travel community and drive sustainable tourism?
Consistent definition of sustainability and understanding of how important it is to customers
What are the top destinations considered "adventure" destinations? How can I get customers to see my destination as an adventure destination?
Top decision-making factors & preferences for customers
Guide Training
What is the most important training need that the global adventure tourism community should pursue to heighten traveler confidence in adventure?
Strong and authentic local knowledge
Excellent communication/storytelling skills
Empathy & good customer service skills
Safety/first aid proficiency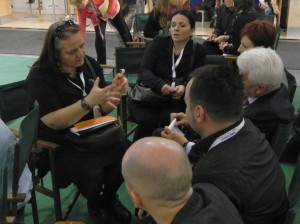 Media Outreach
Identify the top trends you believe the media should be covering about adventure tourism.
Focus on experiences, not just places
Stronger coverage of local destinations ("hidden gems")
Better understanding of sustainability, adventure travel and the variety of activities included
Social Media
What works for your organization? What training would best help you create successful social media campaigns that further adventure tourism?
Timing and timeliness — when to post, how soon to post, how often to post
Best social platform for images — Facebook albums? Instagram? Pinterest?
External events — when should you promote activities, events and destinations that are not directly related to your company?
Thanks to all of the participants and visitors to this AdventureConnect event at ITB, we now have additional insights to help develop a roadmap for future trainings and offerings that can benefit the whole of the adventure travel community.
Your thoughts: let AdventureTravelNews know what your answers are to the questions asked at the AdventureConnect forum. Use the Comment feature below to share your answers!