Apricoat Team launches massively successful Kickstarter campaign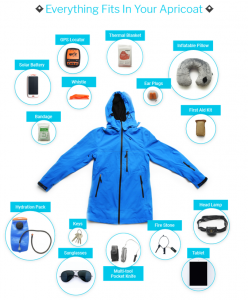 Apricoat Team proudly announces the most advanced adventure coat on earth, simply known as Apricoat. Unlike other traveler coats, Apricoat was designed on mountains by a team of international explorers, who banded together with an industry leading material designer to create the ultimate adventure jacket. Their goal was to create a unique, fully featured adventure jacket with everything an explorer would need or want, at a price that undercuts all the major adventure brands.
The Apricoat team launched a Kickstarter campaign to utilize their community to crowdsource this amazing coat, enabling an extremely reasonable price for all travelers. After only 37 hours, the $50,000 funding goal was reached and has past $500,000 in funding after just over 3 weeks of their campaign with the support of over 3300 enthusiastic bakers.
The Apricoat team set out to offer explorers and frequent travelers a zero compromise jacket, enabling them to leave their baggage behind and still be ready for any scenario. Their video even pokes fun at the thought-of-everything design, as well as the inflated prices of major adventure labels.
Thought up by hardcore hikers and brought to life by veteran fashion designers, Apricoat is the apex of 10 years of adventure travel and material design. The perfect jacket for exploring anything from a rainforest to an urban jungle.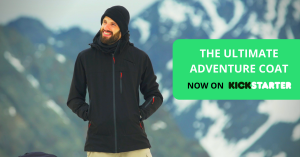 Based on vast experience and real life moments, Apricoat was designed to address various and unexpected situation an advanced traveler faces during adventures. Apricoat not only offers the best possible materials and manufacturing quality, it also integrates cutting edge technology in every stitch:
DWD™ – Differential Weight Distribution: Apricoat's frame ensures everything evens out, and your back is safe.
SafeAnchor™ – Built in Emergency Life Saver: SafeAnchor™ is a potentially lifesaving emergency clip that can carry up to 400 lbs.
ClimateShell™ – Light NextGen Insulation: The latest in material technology. Always breathable but cozy, and super-warm when you need it to be.
HydraBack™ – A smart compartment for an easy access hydration pack
IntuPocket™ Design – 16 pockets where you need them. Get to your headphones, water nozzle, GPS and more without stretching
Flexi-durable Materials – Designed, built, and tested to withhold the harshest conditions.
Besides the amazing quality and usability, Apricoat is offering the jacket fully packed with any advanced traveler needs
Solar Charging Power Bank
Emergency Bandage
Thermal Blanket
Firestone
Whistle
Spot GPS, a worldwide leader in satellite GPS traking.
Apricoat Team's CEO Shay Leibovichi said, "Kickstarter is the the best platform to launch Apricoat. This is a new product, and we would like to bring it to the world at affordable prices by cutting expensive marketing costs and focus on quality and features.
Contributing members are responsible for the accuracy of content contributed to the Member News section of AdventureTravelNews.