A few months ago, I listened to Nicky Fitzgerald speak in Seattle on the construction of her 5-star resort Angama, which sits perched on the escarpment of the Rift Valley overlooking the famous Maasai Mara in Kenya. After her talk, I spoke with Nicky about Travelers Against Plastic (TAP), a campaign I helped to start several years ago because I was tired of seeing a trail of plastic water bottles behind travelers. The idea is to give travelers the tools they need to travel prepared to clean their own water. Since its inception, we have had thousands of individual travelers make the pledge and hundreds of operators and lodges.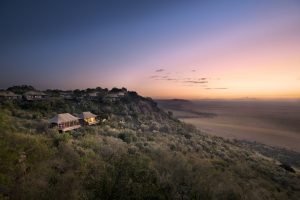 I was heading to Kenya on a site visit recently and Nicky invited me to Angama to see all they were doing to offer their clients a plastic-free safari adventure. Before I left for Kenya, I took some time to look over their website, but nothing could have prepared me for the perfection that is Angama. The location itself is worth the visit with unparalleled views stretching over the Mara plains alive with zebra, impalas, gazelles, giraffe, lions and more. My personal favorite had to be the warthogs, whose bold stance, strong body and upright tail never ceased to make me smile.
As we were introduced to the resort by the wonderful staff, I could see that no detail had been left untouched when it came to ridding Angama of disposable plastics and trash. In each room were several glass bottles of water which were refilled daily. The toiletry bottles were made of a strong beautiful metal which was always left full by room staff. Snacks of nuts and cookies were available in glass jars and placed next to reusable containers of coffee and tea so that there were no individual packets. Even sugar was in ceramic containers with spoons for stirring. The milk for tea was in refillable metal topped glass containers in the fridge. I loved that I could make a fresh cup of coffee in my room without producing the pile of trash usually created when making the morning cup of jo in other places.
Each room had its own safari bag, which we were encouraged to fill with whatever we might need on our game drives. Freshly cleaned glass bottles of water were available in the Land Rover seat pockets as well. For our safari lunch, driver and guide Daniel set up chairs and a table covered by a red-checkered tablecloth. Upon that he set large metal lunch boxes full of refillable containers of the most delicious salads and savory items. The sandwiches were wrapped in wax paper and tied together with a colorful string. Napkins were cloth and silverware was real. There was not a scrap of garbage at the end of our lunch, save for the finished beer cans which would be recycled. As I sat looking over the zebras grazing in the distance, I reflected on the care Angama took to ensure they met their own stringent environmental guidelines. I knew their commitment to the environment took time and likely cost on their part, but the message they sent was loud and clear: we care, and we will help you care as well, making it as seamless as possible while maintaining our high standards of luxury and professionalism.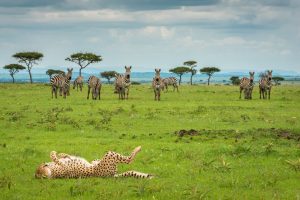 Working with operators and accommodations signing on to TAP, I have often heard that many high-end clients would not want to use reusable containers, but Angama with its 5-star rating serves the most discerning and wealthy travelers, and it appears they appreciate the efforts Angama is making towards a better future for the environment of Kenya.
When I spoke to staffer Tyler Davis about the move to go disposables free, he told me they decided not to explain it to clients, but instead, to simply make the bold move to eliminate disposable products and stand by their commitment. It's worked well. Tyler added, that if a client demands plastic bottles, they can have them, but very few ever do. Angama has shown clearly and definitively, that accommodations can lead the way for plastic-free travel by providing their clients with a clear, safe, polished alternative and to stand by it with pride. Accommodations can and should act as the educator helping usher travelers along a more sustainable travel road.
THE TAP CREW congratulates Angama resort on being an industry leader in disposable free travel and encourages other accommodations and operators to follow suit and be the change they want to see in the world.
Contributing members are responsible for the accuracy of content contributed to the Member News section of AdventureTravelNews.