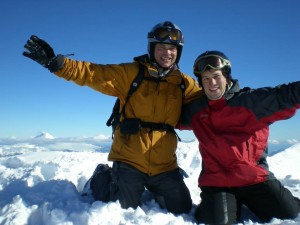 In August 13th, 2003, my father Alejandro Levy, founded Amity Tours, a family-owned and operated tour company, established in the South of Chile.
Looking back in these 10 years, my heart starts to beat faster, I remember with fondness almost every moment. I only have words and feelings of gratitude to my father Alejandro. He didn't teach me about business or tourism, he never lectured me about my behavior, he only taught me how to be a good man, and he did it with his example, even today.
The word Amity means "friendship" in more than one language. This coincidence is totally true. That is the personal touch my father put in the company. We have always wanted to show our country to people who are considered our friends, and we did it with our hearts.
10 years later we are proud to see how Amity Tours has grown to be a bigger company, with more great people in it, but with the same spirit that Alejandro, The Boss, imprinted in our company's philosophy.
I want to thank all our guides, because you understood Amity's philosophy and shared it with our clients. Thank you Guido, Ernesto, Milton, Ruben, Bernardo, Orlando, and Gonzalo.
I also want to thank our best clients, who's support and friendship lasts until these days. Thank you Gerd Walther, for believing in us since 2003; Cristian Cosignani and the unconditional support of Ecotours Chile; Phil Smith (Snoworks) and all his guides (Emma, Lee, Gareth, Nick) and clients (Norman G; Peter C; Charles G; Jo S; Nick O; Sam R; Sioban H; and many more), who have been visiting us for many years. A very special thanks to the Esteves Abreu Family from Brazil, they were our very first clients, and have kept traveling with Amity during 8 years.
Thanks to German and Eduardo, our new partners. They are the new blood and energy of our company.
Finally, I'd like to say: THANK YOU ALL FOR YOUR SUPPORT AND FRIENDSHIP, and thanks to my father for 10 magnificent years full of adventures.
Contributing members are responsible for the accuracy of content contributed to the Member News section of AdventureTravelNews.