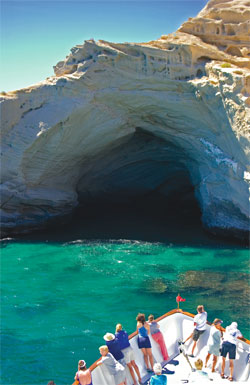 SEATTLE – Renewed consumer confidence has resulted in exceptional bookings for American Safari Cruises' 2010 Alaska departures. Advance activity for 2011 Alaska is equally brisk compared to recent years, and expectations are high as bookings begin for the company's new Hawaii inter-island cruises that start in October 2011.
The newly formed sister brand of American Safari Cruises, InnerSea Discoveries, has just started accepting bookings, especially group and charter business, for small-ship experiential adventures slated for Alaska's Inside Passage from May to September 2011.
Executive Vice President of Sales and Marketing Tim Jacox attributes the higher numbers to savvy travel agents and consumers who understand the need to book far in advance to secure preferred sailing dates, yachts and accommodations. "It also has a lot to do with the degree of satisfaction of our guests," Jacox says. "They often rate us above expectation in all areas, and that's especially true of two recent charters by two well-known actresses – Kate Winslet and Emma Thompson – and their children and extended families."
The 10-person, multi-generational one-week charter in Alaska was aboard American Safari's 105-foot, 12-guest luxury yacht Safari Spirit. The cruise roundtrip from Juneau spent two full days in Glacier Bay National Park to hike, explore glaciers, follow wildlife and learn from the onboard naturalist. An all-American crew of six ensured that guests saw the real Alaska close up in kayaks, motorized skiffs and from the comfort of the yacht.
In a letter to the crew, Winslet described the trip as one to be treasured, remembered and never forgotten. "We have been utterly overwhelmed by this wonderful experience," she wrote. "Thank you for introducing us to an unbelievable new world. Every second of this trip has been mind-blowing. It far exceeded my expectations and every little detail was thought-out and wonderful. This is the kind of holiday that leaves a foot-print on your soul."
Thompson called the yacht "bliss, utterly gorgeous and so comfortable." She remarked on the crew's enthusiasm and the harmony they created. " 'Thank you' is inadequate," she said, "and our gratitude is boundless, like the beauty of this trip."
True testimonial comes in the form of traveling again with the same company. Such is the case with these two busy actresses as they were able to fit a second cruise on the same yacht within seven months of the first – this time to Mexico's Sea of Cortés. Praise was equal to the first adventure with hopes of cruising at least once more.
Contributing members are responsible for the accuracy of content contributed to the Member News section of AdventureTravelNews.