AirRussia.US is dedicated to helping travelers from around the world get to Russia's most exotic places. Eastern Russia is home to many world class adventure travel destinations, including the UNESCO Heritage Sites of Kamchatka, Lake Baikal, and the Sikhote-Alin range, habitat of the endangered Amur tiger. Siberia's vast Yakutia region hosts breathtaking landscapes, dogsled racing, and the coldest place in the Northern Hemisphere – the Pole of Cold. Extremes of weather and distance, the Cold War, and lack of transportation infrastructure long prevented travelers from easily getting to these destinations. Starting in the summer of 2012, AirRussia.US in conjunction with its airline partners Yakutia Airlines and Vladivostok Air, will operate direct flights between Anchorage, Alaska, and Petropavlovsk-Kamchatsky, Russia. Connections will be available from Kamchatka throughout Eastern Russia.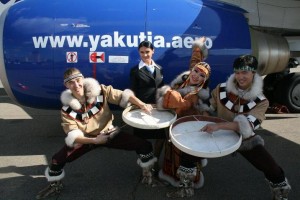 The Kamchatka Peninsula, just across the Bering Sea from Alaska, is one of the worlds most pristine and awe-inspiring wild places. The area percolates with geothermal activity. It is home to world's second largest geyser field, numerous active volcanoes and countless hot-springs, and hosts the enormous Uzon Caldera. Kamchatka offers unparalleled fly-fishing, wildlife viewing and volcano heli-skiing opportunities. Nevertheless, few Westerners have ever been there. Commencing in the Summer of 2012, when Yakutia Air and Vladivostok Air launch their codeshare Anchorage-Kamchatka service, this amazing destination will only be a short flight away. AirRussia.US/InterPacific Aviation and Marketing, the airlines' representative office in North America, is now working to raise awareness about the region among adventure travelers and outfitters. We hope to forge partnerships between adventure travel and ecotourism companies and the local ground operators who know the territory. We welcome inquiries from serious trip organizers who would like to make contacts with operators and visit the region. This summer, we will offer discounted FAM trips to ATTA members. Contact us to learn more.
If you need help navigating the challenges of travel to Russia, please drop us a note – we'd be happy to help.
Click here to connect with AirRussia.US on ATTA's The HUB.