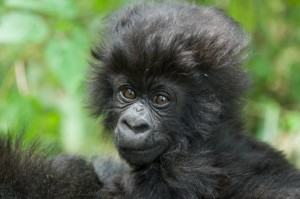 Denver, CO – Africa Adventure Consultants announced that President Kent Redding was recently selected as one of 24 international honorees to name a baby gorilla at the 11th annual Kwita Izina ceremony in Rwanda's Volcanoes National Park.
Kwita Izina, held on September 5, 2015, is a special event that celebrates the new births of Rwanda's mountain gorillas, an endangered species which has seen its numbers increase in recent years due to ongoing conservation and protection programs. Each year, Kwita Izina is attended by thousands of local, regional and international participants and features live music, local cuisine and talks given by conservationists and politicians, including pioneering conservationist Amy Vedder, and Rwanda's President Paul Kagame.
Redding chose the name Ubwira (pronounced 'Oo-Bwheer-a'), which means "courage" in Kinyarwanda, one of the official languages of Rwanda. Ubwira, a female, was born on March 10, 2015 into the Musilikare group, one of more than 10 groups of habituated gorillas in Rwanda. She is one of 24 gorillas born in Rwanda in the past year.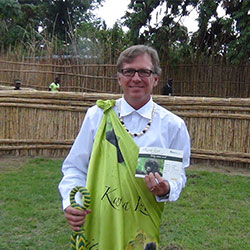 "It was a special honor for me to have the opportunity to name Ubwira," said Redding. "The mountain gorilla is such a special and important species, and they are so threatened, that it felt really good to play a role in the celebration of improved gorilla conservation efforts."
Mountain gorillas are considered critically endangered, due in large part to years of poaching, habitat destruction and civil unrest. The last official census was in 2010, when 880 were counted in the world. Currently, there are an estimated 900+ mountain gorillas living in three countries – Rwanda, Uganda and the Democratic Republic of the Congo. Rwanda saw its mountain gorilla population increase 26.3% between 2003 and 2010, when the population was 480.
Gorillas are an important resource for Rwanda, a tiny country of approximately 12 million people who are still recovering from the 1994 genocide and working to lift themselves out of extreme poverty. Tourism is Rwanda's largest source of foreign income and gorillas are its biggest draw.
"It's an understatement to say mountain gorillas are crucial to Rwanda's tourism industry and to its economy as a whole," said Redding. "That's why we at Africa Adventure Consultants feel good every time we send a client to the "land of a thousand hills" to track gorillas and also see chimpanzees and other primate species such as angola (a.k.a. black and white) colobus monkeys and golden monkeys."
Africa Adventure Consultants will now take its commitment to supporting gorilla conservation one step further by establishing a matching campaign in the name of Ubwira through the Mountain Gorilla Veterinary Project (also known as Gorilla Doctors). Proceeds collected through October 31, 2015 will be matched up to $1,000, and will go to Mountain Gorilla Veterinary Project, an international veterinary team that provides hands-on medical care to ill and injured mountain and Grauer's gorillas living in the national parks of Rwanda, Uganda, and the Democratic Republic of Congo (DRC). Donations can be made here.
In Rwanda, visitors can track mountain gorillas and golden monkeys at Volcanoes National Park, chimps and 12 other primate species in Nyungwe National Park, and big game like elephants, zebra and buffalo in Akagera National Park, which recently re-introduced seven lions from South Africa after an absence of many years. Very recently, the Rwanda parliament approved the establishment of a fourth national park, Gishwati-Mukura, where tourists should be able to hike, birdwatch and track primates in the near future. For an opportunity to track gorillas in Rwanda check out our newly released Ubwira Rwanda Gorilla Safari.
Contributing members are responsible for the accuracy of content contributed to the Member News section of AdventureTravelNews.