Offers Ten Savvy Travel Tips on Vacations to Egypt
DENVER, CO – Africa Adventure Consultants announces the addition of Egypt to its already extensive portfolio of special interest safari programs in East, Southern and now Northern Africa.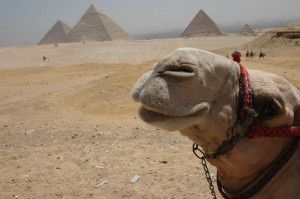 "We've been designing custom tours to Egypt on request for years but from the interest we've seen we now feel it's a natural 'next step' to formally launch an Egypt program with a new nine-day Highlights of Egypt Tour," says Kent Redding, president of Africa Adventure Consultants.
Tour highlights include the Great Pyramids of Giza, the Sphinx, Kom Ombo Temple and the Valley of the Kings & Queens as well as a three-night cruise along the River Nile. Per person, double occupancy rates begin at $1,914, plus $364 for Cairo/Aswan and Luxor/Cairo flights. Included are all accommodations, meals, some drinks, guides, transfers, vehicles, park fees, activities, and a $25 donation to a select African charity.
"While Egypt is very different, culturally and in landscape and history, from other more typical safari destinations, many of our travelers are keen to explore rich World Heritage sites and learn about ancient civilizations," Redding says. "Along with our Ethiopia program, Egypt offers travelers a way to step back in time and experience a very different side of Africa. Its culture and ancient history more than make up for the absence of wildlife experiences that traditional African safari destinations offer."
Because Redding's company sends clients only to destinations that he and his staff have explored first-hand, he is confident in the level of guiding, quality of hotels and tours and other services that partners in Egypt will provide. In addition to comfortable land accommodations and tours, also included is a luxury Nile cruise on the M.S. Nile Adventurer.
This ship and other travel partners have been selected in part to compliment Africa Adventure Consultants' commitment to sustainable travel. Strict recycling and hygiene procedures are followed onboard the 32-cabin vessel so as to minimize impact on the local environment.
Redding's company also makes a Travel Green commitment to offset 100% of carbon emissions on every safari they offer.
Redding offers these 10 tips for anyone traveling to Egypt:
1. Avoid heat, crowds and higher prices by traveling in shoulder season (Apr, May, Jun & Sep)
2. Sharpen your bargaining skills; at shops try to get 30 to 50 percent off the asking price
3. Take a side trip to impressive Abu Simbel, a short flight from Aswan
4. Expect to pay a premium for alcohol
5. Pay the extra $20 to visit the Egyptian Museum's mummy room
6. Pack light, laundry services are available at most hotels
7. Don't worry about not getting your preferred cabin – you spend a lot of time docked next to
other ships with your only view being the side of those ships
8. Explore on your own. With prudence and common sense you can safely walk major streets
and markets to get a taste of the Egypt you won't find on cruise ships or luxury hotels
9. Dress conservatively and appropriately as guests in a Muslim nation
10. Add Mt Sinai and one of Egypt's Red Sea resorts to round out your visit
Contributing members are responsible for the accuracy of content contributed to the Member News section of AdventureTravelNews.