Veteran, Award-Winning Outfitter Expands Website's Multimedia and Extensive Blog Highlighting Trips Around the Globe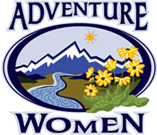 Bozeman, MT – AdventureWomen, the oldest adventure travel outfitter for women over 30, is launching a new website this Friday, Sept.6. Offering trips for more than 30 years, AdventureWomen is excited to offer a fresh, new look with an updated design and an array of content about women's travel.
"In the spirit of all adventurous women, everywhere, who love to embrace new challenges, we've launched a whole new look for AdventureWomen with a new website, e-letter, and "Ciao Bella," our exciting new Blog. Ciao Bella is packed with information about our current and upcoming award-winning trips, and filled with Stories, Videos, Articles, Tales from the Field and much more."
New sections on the blog and website will highlight AdventureWomen's destinations and experiences, and the worldwide Adventure Map makes it easy to view both domestic and international trip locations. 'Tales from the Field', visitors can hear stories of incredibly memorable moments and milestones from past adventures. The new 'Did You Know?' section offers up fun facts about AdventureWomen's trip highlights like Chile's Atacama Desert or studies on the benefits of active travel.
There is also an extensive list of 'Trip Reviews' from past clients. Potential travelers can browse a 'Photo and Video Gallery' of past and current trips from orangutans in Borneo, to bush planes in Alaska, and AdventureWomen's award-winning horseback riding trip in Iceland.
Visitors will be able to learn not only about AdventureWomen's itineraries, but also about women's adventure travel in itself. A few decades ago, it was a bit rare and unusual to hear of active travel opportunities geared specifically to women. Fast forward to today and it's well known that women have made their mark as a driving force in the adventure travel industry. Readers can discover the history of AdventureWomen and founder Susan Eckert, who still guides many of their trips.
Contributing members are responsible for the accuracy of content contributed to the Member News section of AdventureTravelNews.