by Hayley Delf
Under the watchful eye of Mount Ararat's snow capped peaks, twenty mountain guides from Armenia and Georgia gathered together in Yerevan from November 1-5 for the Adventure Travel Trade Association's (ATTA) second European AdventureEDU Immersion Field Training for Adventure Travel Guides. Following a highly successful first regional guide training in October in Bosnia & Herzegovina, the participants were excited to join the growing international network being created through these trainings.
Initial classroom training was followed by a two day field training in the mountain village of Areni, Vayots Dvor region, covering group management, natural and cultural history interpretation and sustainability, alongside general technical skills, safety and the guide's role in first aid as well as Leave No Trace. The field visit included two caves in the area – Mozrov (for a caving experience) and the Areni 1 (bird) cave where recent archaeological finds unearthed the world's oldest leather shoes (believed to date back 5,500 years) and more recently the world's oldest evidence of wine-making with the discovery of wine presses and storage vessels.
The strong historical and cultural components of the location chosen for the field training highlight one of the key messages of the ATTA's guide training program, which is to focus not purely on technical guiding skills but also on the local culture, history, landscapes and communities to offer visitors a more inclusive cultural experience and to promote sustainable tourism practices among visitors and local tourism stakeholders alike. The Caucasus training was led by experienced adventure business owners, Jean-Claude Razel and Myles Farnbank. As well as sharing their own experiences with participants, the trainers were treated to delicious Georgian 'khachapuri' cheese bread cooked by the guides over the fire and provided with musical entertainment.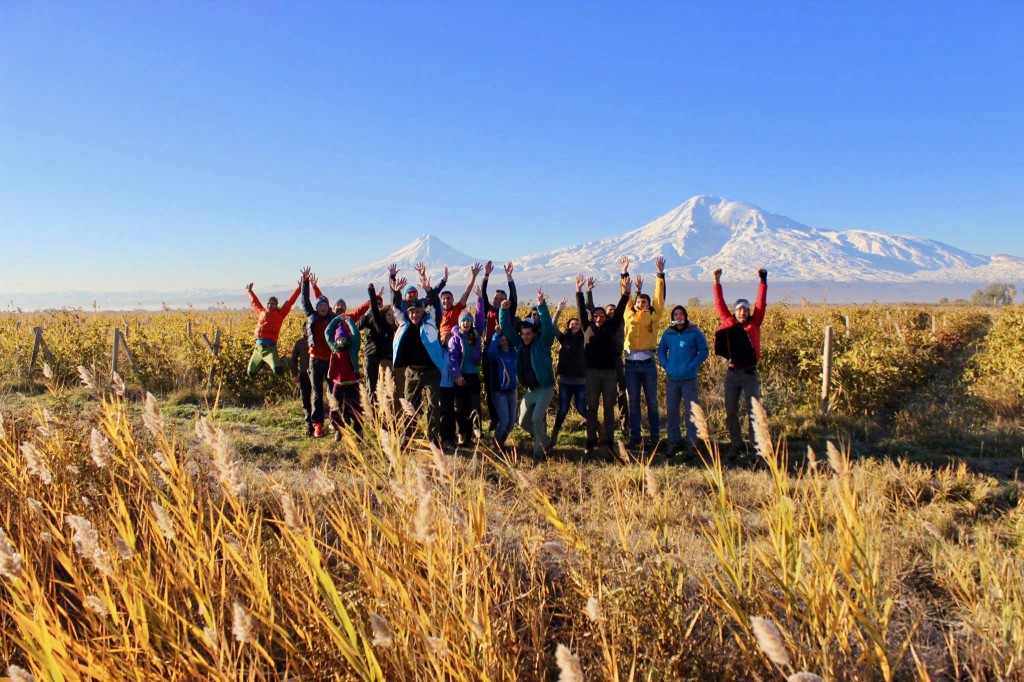 Among feedback from participants we heard:
'It was very interesting and useful training for me, and I can say for everyone. Great new experience and gaining new skills. Sharing the stories and experience of your own with the other guides. New relationship, and friendship. I would like to take part in such trainings as much as possible.'; and,
'I guess as almost all our guides are learning to be a guide by experience, so we need this kind of trainings more and more. It was very useful, necessary, needed! It will give as opportunity to grow up, develop tourism in our Region, get NEW partners and present our country by best way! Thanks again!'
As with the Bosnia & Herzegovina training, this event was supported by USAID's Regional Economic Growth (REG) project, whose Tourism Team Lead – Snjezana Derviskadic – commented, 'The guide training in both locations went well. The trainees in both locations truly valued the knowledge they have gained.  And we also facilitated intense communication and exchange of information among them – ending with two new hubs that understand and now see themselves as pieces of this adventure travel network rather than guides only.  It has been intense, but worth it definitely.'
The ATTA has been partnering with USAID REG Project since 2013 in a series of initiatives, trainings, events with the aim to focus attention and support the responsible and adventure tourism development – first in the Balkans and then sharing the experience in the Caucasus. Both partners have committed to continue collaborating and to support both regions in their strategic and responsible tourism direction in coming years. In December 2016, USAID REG Project is supporting the implementation of AdventureEDU Business Program (Phase I of II) in Serbia with participants from the Western Balkans.