Celebrate a New Destination Partnership with Guam
The U.S. territory of Guam is an adventurous and largely undiscovered island with a vibrant melting pot culture. To celebrate a new destination partnership between the ATTA and this Micronesian island, Guam is hosting two special AdventureConnect events.
Join the adventure community for an authentic taste of Guam's indigenous Chamorro culture in San Diego, on Saturday, October 22 with the Guam Visitors Bureau. At this special Saturday afternoon AdventureConnect adventure travel industry gathering in Nautical Room at Marina Village, you will enjoy cuisine from Guam specially catered for the adventure travel community, and dance with classically trained Chamorro cultural performers in a Fiesta setup. There will also be outdoor gear door prizes sponsored by Guam Visitors Bureau.
Sign Up for AdventureConnect San Diego with Guam
The Guam Visitors Bureau will also be hosting an event on Tuesday, October 25 in Washington, DC. At this casual Tuesday evening social AdventureConnect at the Indulge Lounge inside the Renaissance DC Downtown, you'll have the opportunity to learn more about Guam and enjoy its flavors with a welcome drink and appetizers, plus outdoor gear prizes courtesy of our visiting Guamanian hosts.
Sign Up for AdventureConnect Washington DC with Guam
Invitation to Screen the Powerful Film Blood Lions
Blood Lions follows acclaimed environmental journalist and safari operator Ian Michler and an American hunter who "buys" a lion then travels to South Africa. Their on-camera journey uncovers the realities of the multi-million-dollar predator breeding and canned lion hunting industries in South Africa.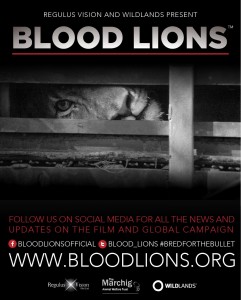 Whether you are a travel professional or a traveler, it is vital to become aware of the many practices in the film related to the canned lion hunting industry in order to make informed decisions when planning travel in South Africa. This film has already had a very positive impact in South Africa. It offers concrete steps to help stop these practices and be more alert to similar practices in other countries. Blood Lions has the support of ATTA president Shannon Stowell as well as many others in the travel industry.
AdventureConnects in Vancouver, BC and Seattle, WA are being held in conjunction with screenings of the film and the attendance of the film's director, Bruce Young.
Presented by SEEtheWILD and Intrepid Travel, the film's Canadian premiere screening on October 30 will take place at the Rio Theatre Vancouver at 12:30 pm (doors open at 12 noon). Advanced tickets for the screening are available for purchase (ages 19+ and over). 50% of ticket sales support Youth For Lions. A Q&A with Young will follow the screening.
The AdventureConnect gathering and exclusive opportunity to meet Young takes place after the screening at 3:00 pm in a reserved area upstairs at Toby's Pub & Grill, just around the corner from the Rio Theatre. SEEtheWILD (Holidays for Humanity's Wildlife Conservation advocacy channel) is hosting appetizers, and guests are invited to order off the bar's happy hour menu which runs until 6:00 pm. Free registration is required.
Sign Up for AdventureConnect: Vancouver, B.C. — Blood Lions Film Screening
The film's Seattle screening on November 2 will take place at the Central Cinema, starting with an AdventureConnect gathering at 6:00 pm. The screening is free, thanks to event sponsors Ponte Travels and ExOfficio. A Q&A with Young will follow, along with special guest Rick Swazey, the hunter followed in the film. A full food and beverage menu is available in the theatre.
Sign Up for AdventureConnect: Seattle – Blood Lions Film Screening