The Tourism Excellence Awards celebrates achievements and commitments to the region's booming tourism industry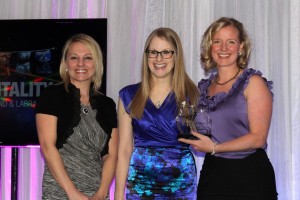 2014 marks Adventure Canada's 20th anniversary in Newfoundland & Labrador and it's already proving to be a celebratory year in more ways than one. The expedition company was recently honoured with the 2014 Cruise Vision Award at Hospitality Newfoundland & Labrador's annual Tourism Excellence Awards Gala on February 28th in Gander. The award is presented to leaders who demonstrate a meaningful commitment to the provincial cruise industry. This is Adventure Canada's second honour from Hospitality Newfoundland & Labrador, having previously won the Cruise Vision Award in 2007.
"Each year, we strive to launch new initiatives and itineraries that promote Newfoundland and Labrador as a premier cruise and travel destination and we're thrilled to be recognized for our dedication, passion and creativity in the region," said Cedar Swan, Adventure Canada Vice President. "Newfoundland and Labrador is a guest favourite. We appreciate every opportunity to be a part of the community and are honoured to receive this award."
Adventure Canada's biggest source of pride is developing Newfoundland and Labrador as a sought-after cruise destination. The company works closely with off the beaten path communities to help them realize their potential and how tourism can be a positive force within their region. Working side by side to develop tourism products and trailblazing cruise itineraries that not only include, but also highlight these communities is a key component in Adventure Canada programming. The result is a comprehensive, cross-province travel experience that engages not only St. John's and Corner Brook, but countless smaller communities as well.
Adventure Canada has taken a true leadership role in the promotion of cruise product in Nunatsiavut especially. A highlight for many, the Torngat Mountains National Park is an extraordinary destination with a unique set of logistical, safety and cultural considerations such as hiring appropriate bear monitors, respecting the park's cultural and spiritual significance, and understanding and reporting on its complex geography, archaeology and ecology to provincial and federal authorities.
To further promote the cruise industry in Newfoundland and Labrador, the company invites esteemed Newfoundland and Labrador resource staff to the team, often highlighting local authors and filmmakers. In the past Lisa Moore, Michael Crummey, Bernice Morgan, Kevin Major and Barbara Doran have all sailed with the company. Adventure Canada also invites authors and other celebrities from outside the province to both promote and draw inspiration from Newfoundland and Labrador and to offer presentations at schools and community events. Past examples of such celebrities include Margaret Atwood and Ian Tamblyn.
Half of Adventure Canada's passengers now call into Newfoundland and Labrador, a significant increase from one ninth of the company's cruise business in 2009, just five years ago. The company introduced two exclusive sailings to Sable Island in 2014, designating St. John's as the homeport, and has also expanded St. John's-based pre and post tour options. In 2013 and earlier, these programs included the multi-day "Art on the Rock" program and one-day programs to Cape St. Mary's, and in 2014, Adventure Canada offers the two-night Avalon Explorer running multiple times. These programs will bring upwards to 590 intrepid travellers to Newfoundland and Labrador alone.
Contributing members are responsible for the accuracy of content contributed to the Member News section of AdventureTravelNews.