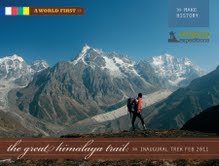 A WORLD FIRST:  World Expeditions invites travelers to undertake a truly extraordinary trek. Be one of the first people ever to walk the full length of Nepal's Great Himalaya Trail in one continuous trek. The 157 day trek commences in the far east in the Kanchenjunga region where the world's third highest peak stretches skyward, and traverses the country to the high plateaus on the Tibetan borderlands in the far west. Along this 1700km trail you'll encounter some of the wildest and most remote mountain environments imaginable. You'll see all of Nepal's 8000 meter peaks, cross tens of passes ranging from moderate to extreme and witness villages where the culture has remained intact for centuries.
Acknowledging that most of us simply don't have the luxury of this sort of time for our adventures, we've crafted seven treks that will interlink to make up the full traverse. The beauty of each is that they all offer something completely different, but importantly, by joining one of the GHT treks (or the whole thing if you so desire), you will be helping us achieve our vision of sharing the benefit of tourism dollars with isolated communities that currently receive little to no income from this source. This is an opportunity to experience some of the least visited, most exciting hidden corners of Nepal where you will be struck with awe and wonder at the scale and grandeur of the land.
THE FULL TRAVERSE: 30 Days –15 February 2011
Stage 1: Kanchenjunga Exploratory – Led by Robin Boustead
30 Days –15 February 2011
Stage 2: Makalu & Everest Traverse via Sherpani Col – Led by Stephen Venables
34 Days –13 March 2011
Stage 3: Everest & Rolwaling Traverse via Tashi Labsta Pass – Led by Greg Mortimer
28 Days – 27 March 2011
Stage 4: Langtang via Tilman Pass – Led by Carlos Buhler
18 Days – 02 May 2011
Stage 5: Manaslu & Annapurna
26 Days – 21 May 2011
Stage 6: Upper Dolpo – escorted by Sorrel Wilby
26 Days – 07 Jun 2011
Stage 7: Rara Lake & Yari Valley
23 Days – 30 June 2011
By embarking on the GHT you will become part of history and trek with some of the world's greatest mountaineers and adventurers including Greg Mortimer, Sorrel Wilby, Stephen Venables, Carlos Buhler and, of course, Robin Boustead.
For more information on these or many more trips contact 1-800-567-2216 or www.worldexpeditions.com. World Expeditions' all-inclusive policy ensures there are no local payments.
Contributing members are responsible for the accuracy of content contributed to the Member News section of AdventureTravelNews.