In the travel industry, waste issues affect us all on a daily basis. As an inbound tour operator established in Chile since 2003, Amity Tours organizes active trips in wilderness and protected areas, where responsible practices are fundamental. Since the beginning of our operations, sustainability has always been an important aspect of our travel experiences. As of today, it has become a number one priority for us.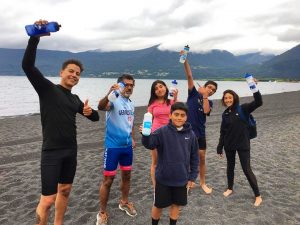 Our first steps
As a company offering responsible tourism in Chile for 16 years, we decided to move towards becoming a zero waste company and are implementing the following measures:
"Reduce, Reuse, Recycle" Practice
Reduce: In order to prevent the production of waste, we have partnered up with local & organic food suppliers. This allows us to buy in bulk. Thus, it avoids the use of disposable plastics but also fuels the local economy.
Reuse: We donate all of the remaining reusable water bottles after each operations' season. In 2019, approximately 450 were donated to local sport clubs (Bagualitos Park, & TeamPucón). For 2020, we plan to give away another 500 more. In the future, we will work with our partners on finding a sustainable solution regarding this issue. Moreover, we encourage our clients to bring their own water bottles.
Recycle: At our main office we separate and recycle Plastics, Cans, Glasses, Paper/Carton and all organic waste generated at our office and part of the waste generated during trips. Trip guides and drivers carry a dismountable recycling point where clients and staff can collect their recyclable waste during the voyage. We also separate and collect the organic matter to be composted by a local organization. This compost is then used for our garden located at Amity Headquarters.
Coming soon
We still have a long road ahead. We plan to measure all waste and recycled materials generated during our tours from November 2019 to April 2020. Based on the collected information, we´ll take steps to reduce our waste production for the 2020/21 season.
In addition, we will keep integrating local suppliers who also apply sustainable practices in order to eliminate waste directly at the source. We'll integrate our selection of hotels and restaurants in our efforts, and last but not least, our team will be the main protagonist in our challenge of becoming a zero-waste company. They will share and implement on the field the company's efforts, to create a lasting impact on our guests' minds.
Contributing members are responsible for the accuracy of content contributed to the Member News section of AdventureTravelNews.