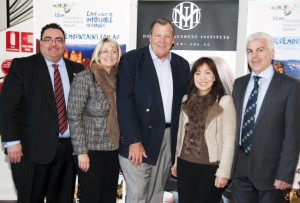 Blue Mountains Lithgow & Oberon Tourism will receive $255,000 to enhance its digital platform if the Coalition wins the September 7 Federal Election.
The possible funding boost was announced by Federal Shadow Tourism Minister Bob Baldwin and incumbent Macquarie Federal MP Louise Markus at the Hydro Majestic Hotel at Medlow Bath yesterday, the site of a $60 million redevelopment and new hotel management institute.
Mr Baldwin said the funds would be directed to BMLOT in recognition of its strong track record in delivering projects to the region.
The $255,000 would involve initiatives with local tourism operators, councils and other stakeholders and enable the development of products for better consumer links through an integrated digital platform for the region.
Mr Baldwin, said the commitment was only delivered because of the strong lobbying of Mrs Markus, who had been "a tireless advocate for the Greater Blue Mountains tourism industry''.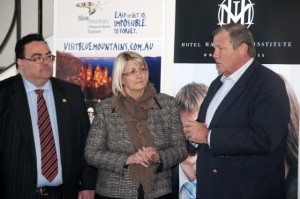 "I know from talking to local tourism operators that Louis Markus is someone who understands the importance of tourism to the Greater Blue Mountains economy."
Mrs Markus said the funding would enable the BMLOT to expand and build upon the important work it already carried out in the region.
"Tourism is the most significant single commercial industry in the Blue Mountains," she said.
"I am so delighted to make this announcement and look forward to working with BMLOT over the coming the months to achieve the best outcomes. I know this will be a real boost for this vibrant region.
"This highlights once again that only the Coalition can deliver certainty and stability and help boost productivity for tourism operators throughout Australia."
BMLOT chairman Randall Walker thanked Mr Baldwin and Mrs Markus and said that the funding would be an important lift for the industry.
"Blue Mountains Lithgow Oberon Tourism is delighted with this announcement from the Coalition which represents a definite commitment to product development in a significant tourism region."
Tourism in this region involved more than 1700 tourism businesses which employed more than 5000 people and attracted about 4 million visitors.
During his whirlwind day-and-a-half visit to the region in which he also visited Scenic World and the Fairmont Resort, Mr Baldwin also announced a Coalition election funding promise to contribute $500,000 towards the building of a walking and cycling track in the Blue Mountains.
The money will match that announced by the current Federal Labor Government in June and enable the second section of the Great Blue Mountains Trail to start construction. This second part will add 13.2km of new walking and cycling track linking the towns of Katoomba, Medlow Bath and Blackheath.
Contributing members are responsible for the accuracy of content contributed to the Member News section of AdventureTravelNews.