The Galapagos National Park returned to its place of origin, in the area known as "Cinco Cerros" on Isabela Island, a group of 163 terrestrial turtles of the Chelonoidis guntheri species, after having been raised in captivity.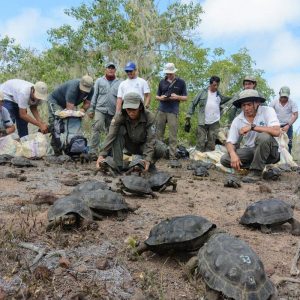 Casa Natura Galapagos Lodge is honored on presenting this project to all their guests and nature lovers in general, as it has a great impact not only in the Islands but also in the conservation of species worldwide.
Prior to the release, the respective health examinations were carried out, their shells were marked with a special ink to be able to track them and a microchip was implanted with the data recorded in the reproduction program.
This activity is part of the project 'Initiative for the Restoration of Giant Turtles' which is developed with the support of Galapagos Conservancy. The Galapagos National Park maintains breeding programs in captivity with the mission of recovering the population of turtles in several islands of the archipelago.
Galapagos hotels and cruise boats, including of course Casa Natura Galapagos Lodge, fully support the efforts done by the Galapagos National Park and international NGOs in helping the islands' conservation. Casa Natura believes that projects of this nature contribute to the conservation and the tourist development of the archipelago.
Contributing members are responsible for the accuracy of content contributed to the Member News section of AdventureTravelNews.