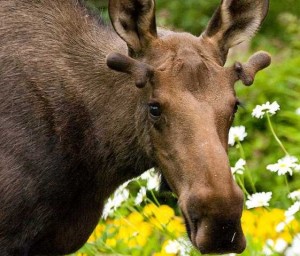 In Alaska in autumn during mating season, or in the spring when calves are being born, you are just as likely to see moose in a forest as you might driving down the road or even in your backyard garden. As the stories go in Anchorage, Alaska, moose have been reported wandering through automatic sliding doors into shopping malls and even hospitals. They might graze in parks, or walk across school campuses, or migrate hundreds of miles to better shelter and grazing grounds.
So it's no surprise when Anchorage's favorite residents on four legs migrated all the way to Costa Rica at the end of last month.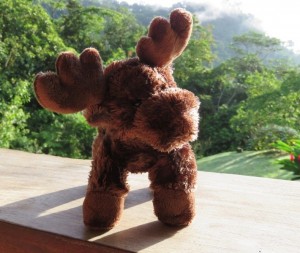 Visit Anchorage, the Anchorage Convention & Visitors Bureau in Alaska, sent 150 stuffed moose toys as gifts from Alaska to Costa Rican schoolchildren in appreciation for their help in planting 5,000 trees in the International Carbon Neutral Project Alaska – Costa Rica in August. Native Costa Rican trees were planted on the Rios Tropicales Private Rainforest Reserve in Bajos del Tigre near the Pacuare River in Costa Rica, in a partnership between Visit Anchorage, Rios Tropicales adventure company, the Costa Rican Network of Private Nature Reserves and the Adventure Travel Trade Association to offset the carbon emissions of the Adventure Travel World Summit 2016 that was held in Anchorage, Alaska from Sep. 19 to 22, 2016.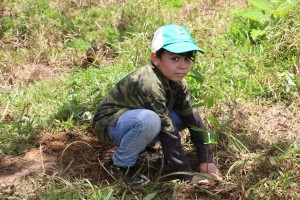 The colossal tree planting event on Aug. 19, made history as one of Costa Rica's largest tree planting events in one day, and was a milestone for the first-ever carbon neutral Adventure Travel World Summit (ATWS), held annually by the Adventure Travel Trade Association in different locations around the globe.
On Oct. 26, Mario Achoy, owner of the butterfly garden Mariposas del Pacuare in El Tigre located next to the Rios Tropicales Private Rainforest Reserve, who organized the school groups for the big event, visited the schools of El Tigre, Jabillos, Tres Equis and Linda Vista to appreciate the 150 students for their meaningful participation in the historic inter-nation tree-planting. As Achoy gave out the plush, dark brown stuffed moose toys to the enthusiastic youngsters, they happily remembered the sunny August day when they dug holes and placed hundreds of native Costa Rican tree saplings in the ground along with their teachers and 200 other volunteers.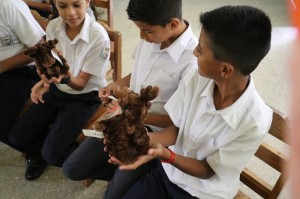 Achoy passed on the gratitude to the children expressed by Visit Anchorage and Rafael Gallo, co-founder of Rios Tropicales and the president of the Costa Rican Network of Private Natural Reserves, along with a message about how important it is to plant trees and other efforts to positively impact the planet. He also told the children all about the fascinating moose in Alaska.
"Our children represent the future of our country. They showed us that this type of environmental initiative really affects them; and that they are part of a more sensitive, responsible and aware world," said Achoy.
Contributing members are responsible for the accuracy of content contributed to the Member News section of AdventureTravelNews.