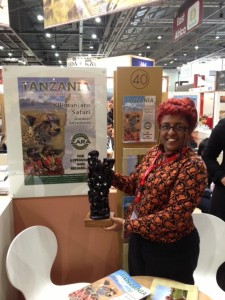 Zara Tours a Tanzanian adventure safari company won the Humanitarian Award at this year's World Travel Market (WTM) that is taking place in London for 3 days from the 5th November for their passion, commitment and contribution towards sustainable Tourism in the industry.
Mrs. Zainab Ansell the managing director of Zara Tours said while receiving the award "This is an honoring moment. Our commitment to  sustainable tourism has seen the establishment of Zara Charity, our not for profit organization that focuses on using tourism to create better livelihood for our employees, partners, communities, our country and continent at large. I will use this award as a reminder that our work has just started and we must forge ahead with more vigor as it is a part of our responsibilities to transform our communities for the better." Mrs. Zainab Ansell continued saying that " I look forward to getting more partners in this very significant venture and hope that in many years to come Zara Charity's mark in positively impacting will live beyond our reach."
The awards ceremony took place on 7th November in London, as part of World Responsible Tourism Day, the World Travel Market, and the leading global events for the travel industry.
Justin Francis, founder of The Responsible Tourism Awards and Managing Director, responsibletravel.com, organizers of the Awards remarked "Once again we reveal the responsible tourism agenda setters, the remarkable winners of the Responsible Tourism Awards. We've cast the net far and wide and received over 1,000 nominations for organizations of all sizes and types globally.  It gives me great confidence that responsible tourism is flourishing, and provides further inspiration for our industry."