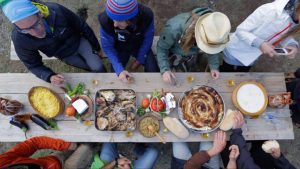 The Western Balkans has become Europe's adventure playground, and the travel industry—especially the press—has taken notice. After years of ranking atop where-to-go-next lists (Outside magazine in 2014, Wanderlust in 2015, The Guardian in 2016), National Geographic Traveler named the Via Dinarica hiking trail, which runs through the middle of the region, one of its "Best of the World" destinations for 2017. The trail links the countries of the Western Balkans and traverses Slovenia, Croatia, Bosnia and Herzegovina, Montenegro, Albania, Serbia, Kosovo, and Macedonia.
In response to this energy and excitement—and to positively take advantage of our position as an adventure travel darling—we invite all those interested to participate in a new Webinar series. The monthly series launches April 14, at 4 p.m. CEST (10 a.m. EST). Alex Crevar, who has covered the Balkans (The New York Times and National Geographic Traveler) as a travel journalist for 20 years, will moderate the series with different guest speakers and lecturers joining as the series tackles new topics.
The first webinar will explain and explore the Via Dinarica hiking trail as a regional tourism magnet and cultural corridor. We will discuss ways both regional and international tourism operators can collaborate, incorporate local businesses, and enjoy the authentic travel possibilities along this eight-country route.
The monthly series is brought to you by the Via Dinarica Alliance, a cross-border cooperative of companies in the Western Balkans that is committed to strengthening the region's sustainability through responsible tourism. The series will be hosted by Balkan Vibe, the region's premier site for Balkans-based travel information, booking options, and business-to-business partnership possibilities. The series is supported by the USAID/REG project.
The 45-minute webinars are dedicated to region-wide communication about best practices, solutions, capacity-building, and skill development within the tourism industry here in the Balkans. The series also provides real-time information to tourism operators in the region and across the planet. We encourage networking and partnerships and are committed to facilitating both.
Each month, webinars will focus on a different subject of adventure travel interest and possible methods for collaboration. Webinar participation is free for all—from any corner of the world—and all are welcome. Each webinar is 45 minutes: approximately 30 minutes of moderator-guest Q&A and presentation, and then 15 minutes of participant questions, suggestions, and requests.
Future webinar subjects will include:
Partnering with international tourism operators
Promoting and implementing a sustainable agenda
Organizing your travel company to get the most from your efforts
Involving more locals in your tours
How to record—images, videos, and text—your tours and company
How to successfully communicate with journalists
Working with National Parks and other resources
Please keep an eye out for webinar and registration reminders. We can't wait to see you during the series and all learn together.