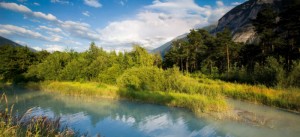 We are happy to announce that Switzerland won the Condé Nast Traveler 2013 World Savers Award for Sustainable Destination in the category of Developed Country. The award is bestowed upon travel companies with exceptional achievement in social and environmental responsibility.
What makes Switzerland sustainable? Here some facts:
The spectacular nature parks – from the terraced vineyards of the Lavaux to Mount San Giorgio, a ­UNESCO World Heritage Site – are models for balancing environmental protection with tourism.
The Swiss trains! The government has poured resources into minimizing idling time (reducing carbon emissions) and shrinking connection times.
On Lake St. Moritz, Badrutt's Palace hotel heats its 200 rooms by sucking 40-degree lake water into a heat exchanger, which extracts enough energy to send 158-degree vapor circulating through heating pipes. The system saves 125,000 gallons of oil annually—enough to heat 140 U.S. homes for a year.
… and there was another award: Switzerland Tourism won 2013 Virtuoso Tourism Board of the Year Award in Las Vegas! Virtuoso is the industry's leading luxury travel network. This by-invitation-only organization comprises over 330 agencies with more than 7,200 elite travel advisors in 20 countries in North and South America, the Caribbean, Australia and New Zealand, as well as over 1,300 of the world's best travel providers and premier destinations. Read more