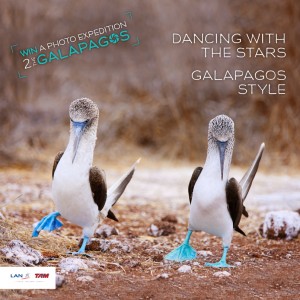 Visiting The Galapagos Islands is an unforgettable experience in its own right, but a group of brands have come together to offer a sweepstakes grand prize that takes the Galapagos experience to an even greater level.
The winner of The Photo Expedition To The Galapagos (and a guest) will not only get to spend 7 days and 6 nights in one of the planet's most extraordinary places, but will also be able to document the experience like a professional.
The Grand Prize Winner will fly from the US to The Galapagos compliments of LAN Airlines, then cruise throughout the islands aboard one of the Galapagos Expedition Yachts operated by Ecoventura, an ATTA Member, and well-established and respected Galapagos tour operator. These small ships (maximum 20 passengers) were designed specifically for Galapagos travel, and will serve as home base for the week. From the ship, winners will take Zodiacs or kayaks for on-shore excursions led by expert naturalists. Ecoventura is a Rainforest Alliance verified operator and member of the TOPS initiative.
The winners will have the chance to swim and/or snorkel along side playful Sea Lions, Sea Turtles and perhaps even the Galapagos Penguin. They'll hike trails and discover many of The Galapagos' renowned species, including Marine Iguanas, colorful Sally Light-Foot Crabs and delightfully dance-happy Blue Footed Boobies.
A bus will carry the winners across Santa Cruz, one of the inhabited Galapagos islands, crossing all seven vegetation zones as you go. They'll end up in a private reserve, where they'll have the opportunity to see the legendary Galapagos Giant Tortoises in their natural habitat.
As for documenting the once-in-a-lifetime adventure, the Grand Prize also includes a new Cannon EOS Rebel T3 DSLR, as well as two stylish, handmade camera bags from ONA.
While all of this sounds impressive, what will make this photo expedition truly unique will be the presence of professional photographer Nils Schlenbusch, who will accompany the winners on their trip. Schlenbusch is an accomplished photographer, who has shot wildlife and travel destinations all around the globe. He will be there to provide pointers and tips for the winners.
Grand Prize includes three meals a day aboard the ship, featuring a variety of cuisines prepared by culinary school-trained chefs, a fully-stocked bar and a 24-hour coffee and tea station onboard. The ship also features an open and shaded observation deck, ideal for watching wildlife during the day, and a sky teeming with stars at night. Winners will receive two copies of the Lonely Planet Guide To The Galapagos. The winners will also be treated to a visit to the Charles Darwin Research Center, to see even more wildlife, and learn about the scientific significance of this remarkable archipelago.
Created by LAN Airlines, Ecoventura, Lonely Planet and ONA, this Photo Expedition To The Galapagos is truly a once-in-a-lifetime opportunity. You can enter the sweepstakes here.