Office moves from longtime location in downtown Ft. Lauderdale to Plantation, FL; relocation to result in cost benefits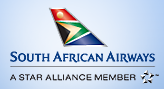 Fort Lauderdale, FL – South African Airways (SAA), Africa's most awarded airline, announced that it has relocated its North American regional headquarters from downtown Ft. Lauderdale, FL, to the Cornerstone Corporate Center in Plantation, FL – a popular business and residential district located approximately 12 miles west of downtown Ft. Lauderdale. The cross-town move, which took effect on Aug. 27th, underscores the airline's commitment to maintain its North American regional headquarters in South Florida, and will result in reduced overhead costs and space efficiencies. While the address has changed, the contact phone numbers have all remained the same.
The new address is as follows:
South African Airways – North America
1200 S. Pine Island Road
Suite 650
Plantation, FL 33324
Reservations: 1-800-722-9675
Main Number: 954-769-5000
Aside from presenting cost benefits, the new location features an improved office design and smarter workspaces, and is more geographically centralized, resulting in shorter work commutes for the majority of the 65 employees that cover areas responsible for reservations, sales, marketing, corporate communications, finance, human resources and support services.
"South African Airways has been a proud South Florida employer for 15 years, providing top quality jobs for our 65 employees that reside in this region.  In choosing a new office space, we felt it important to remain in South Florida, given its favorable cost structure for businesses and quality of life for our employees," said Todd Neuman, executive vice president, North America, for South African Airways.  "In choosing the new location for our North America regional office, it was key to find a space that will result in lower costs without sacrificing quality or efficiencies."