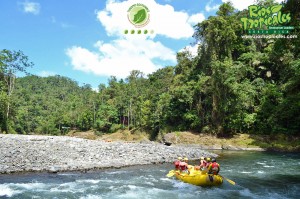 Since our founding in 1985 we have shared our mission with clients and communities: To Share the rivers and natural resources of Costa Rica, our culture and conservation values. Always committed to professionalism, safety, high quality and extraordinary service.
Continuing our relentless path towards a better symbiosis between society and nature; we have the pleasure to announce our most recent "Level 4" Certification by the National Accreditation Commission for the Sustainable Tourism Program (CST)
We believe we have the opportunity to be role models not only to our tourism guest adventurers, but also to the communities in which we operate as we involve local members in our reforestation and land protection efforts.Some of the projects and practices we have created and been involved in: Health Clinics, Community Collaboration to Protect Wildlife, Role Models for Their Communities, Creating Ecopreneurs: Rios Facilitates Staff Entrepreneurial Opportunities, Local Collaboration Creates Economic Benefits and Private Label Organic Coffee Market Created.Our Sustainable Tourism practices fall into four major categories: Reforestation, Community Projects, Environmental Education and River Conservation programs.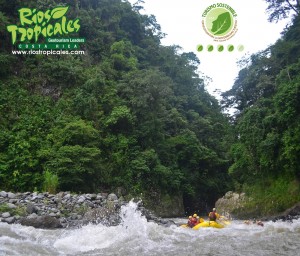 Other Special Honor Achievements in recent years have been:
Best Corporate Social Responsibility Practice on the Environmental Care and Preservation Category, at Latin American level to Rios Tropicales Natural Reserve – Mexican Center for Philanthropy, Mexican Alliance for Social Responsibility and Business Forum – 2012
Pacuare River and Rios Tropicales – Best Places to Go Whitewater Rafting, The Best Places For Everything by Peter Greenberg 2012
Blue Ecological Flags for Protected Natural Areas – Costa Rica 2011, 2010, 2009

Blue Ecological Flags for River Conservation , Pacuare River ( Rios Tropicales Lodge), Pacuare River (San Martín Put In ) Terciopelo Creek ( Rios Tropicales Reserve) 2009, 2010, 2011

Pioneers for Prosperity Award 2009

National Geographic's and Ashokas Changemakers' Geotourism Challenge Winner 2008
Condè Nast Traveller World Savers Award 2008
Best Adventure Travel Companies on Earth – #1 Adventure Outfitter in Costa Rica – National Geographic Adventure Magazine Online 2007