Missoula, MT – Missoula-based Adventure Life Journeys today was named to Outside magazine's third annual "Best Places to Work" list. Adventure Life was ranked No. 45 out of 50 selected companies. The full list and related story will be published in the May issue of Outside magazine, available on newsstands April 13, 2010.
"We are beyond thrilled to be named to Outside's Best Places to Work list for the second straight year," said Adventure Life Journeys CEO Brian Morgan. "To see our company on a list with household names, globally recognized brands, and publicly traded companies really speaks to the quality work environment here at Adventure Life. We are very proud of our company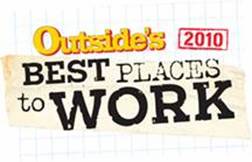 ."
Outside's "Best Places to Work" list was compiled with the help of the Outdoor Industry Association and Best Companies. The year-long selection process began with an outreach effort that identified a wide range of non-profit and for-profit organizations with at least 15 employees working in the United States. Participating companies were then sent confidential employee-satisfaction surveys and employer-questionnaires to collect information about benefits, compensation, policies, job satisfaction, environmental initiatives, and community outreach programs. All of the results were analyzed by Best Companies Group experts, who selected the 50 companies that strive to enhance their employees' enjoyment of active endeavors, and environmental and social involvement.
"These 50 companies come from a vast array of industries but they're all following the same enlightened path," said Michael Roberts, Executive Editor of Outside. "They're successful businesses in a challenging economy precisely because they support a proper work-life balance. They know that benefits like on-site gyms and fitness classes, reimbursements for ski passes and sports racing fees, and support for community service efforts during work hours make their employees happier and thus more productive."
###
Outside Magazine's Best Places to Work 2010
1. Natural Habitat Adventures
2. New Belgium Brewing
3. Clif Bar & Company
4. Smith Optics
5. Amer Sports Winter & Outdoors Co.
6. Rally Software
7. Tabar, Inc.
8. LeBootCamp
9. Seventh Generation
10. Paradigm Group
11. Fitness Anywhere, Inc.
12. Osprey Packs, Inc.
13. USANA Health Sciences
14. The DREAM Program, Inc.
15. Carmichael Lynch
16. W.L. Gore & Associates, Inc.
17. Alaskan Brewing Co.
18. SmartWool
19. Eddie Bauer LLC
20. NatureBridge
21. Max Borges Agency
22. Nau
23. Chesapeake Energy Corporation
24. Redspin, Inc.
25. Wilderness Adventure At Eagles Landing
26. PMI (Pacific Market International)
27. River Design Group. Inc.
28. KEEN
29. Aspen Skiing Company
30. Patagonia
31. Timberland
32. LIVESTRONG
33. Pearl Izumi
34. Realeflow, LLC
35. Street Legal Industries, Inc.
36. Rutabaga
37. Horny Toad
38. Peaksware, LLC
39. Quality Bicycle Products
40. MINDBODY
41. Ruff Wear, Inc.
42. G5 Search Marketing
43. Great Harvest Bread Co.
44. NOLS
45. Adventure Life Journeys
46. OluKai Premium Footwear
47. Sambazon
48. Volcom, Inc.
49. Dominion Digital, Inc.
50. TriSports.com