Short Film That Explores Fiji's Protected "Tropical Grand Canyon" Selected as Banff Mountain Film Festival Finalist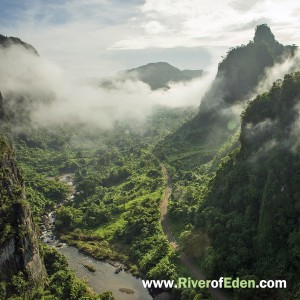 Angels Camp, CA – Veteran river outfitter and ecotourism operator O.A.R.S. announces the release of a new short film, River of Eden, by award-winning filmmaker and National Geographic Freshwater Hero Pete McBride. Selected as a finalist for the 2014 Banff Mountain Film Festival in November, the five-minute movie tells the unique conservation story behind one of the only protected rivers in the South Pacific—Fiji's Upper Navua.
For the film, McBride traveled into the highlands of Fiji's main island of Viti Levu to explore the Upper Navua River and find out why the locals said "no" to easy money from resource extraction, and instead, turned to tourism to fund a conservation area.  What he discovered was not only one of the most beautiful rivers on Earth—a "mini-tropical Grand Canyon"—but a low-impact commercial rafting operation in the Upper Navua Conservation Area that has given more than $1 million back to local communities in the last 15 years.
The Upper Navua Conservation Area was established in 1998 when Rivers Fiji, with the dedicated support of O.A.R.S. president and founder, George Wendt, and an unlikely group of local entities including two villages, nine mataqalis (land-owning clans), a logging company and a government organization, opted for long-term sustainability through tourism. To protect the area's natural assets, the group banded together to set-up a 25-year land lease that precludes logging, road building or mining in the fragile river corridor. In River of Eden, McBride takes viewers on an intimate exploration of this protected paradise and shows the power of ecotourism to promote a conservation ethic in developing parts of the world.
Kevin Fedarko, author of The Emerald Mile: The Epic Story of the Fastest Ride in History Through the Heart of the Grand Canyon, had this to say about the film: "Over the last several years, Pete McBride has carved out a space on the landscape of documentary filmmaking where art, conservation, and the beauty of nature meet and flow together. River of Eden offers a glimpse of what McBride does best—which is to create, through images, words, and music, a confluence of ideas that is provocative, inspiring, and deeply moving."
River of Eden may be viewed online at riverofeden.com where people can also enter a sweepstakes to win an eight-day trip to Fiji for two from O.A.R.S., including airfare from Los Angeles to Nadi International Airport courtesy of Fiji Airways.
The film will also appear on the big screen at the Banff Mountain Film Festival in Alberta, Canada on Thursday, November 6. Presented by National Geographic, The North Face and Parks Canada, the Banff Mountain Film Festival is one of the most prestigious film festivals in the world.